So far, Elden Ring is one of the major and most prominent releases of this year and has gained so much popularity due to its stunning graphics and great storyline. If you are a regular Elden Ring player, you may know that the game offers a lot of unique weapons to destroy the bosses and different places to explore. With so many weapons to choose from, players may also wish to grab the Elden Ring's Moonveil Katana weapon. For your help, we are here with a detailed guide explaining where to get Moonveil Katana.
This weapon is an absolute necessity for Dexterity and Intelligence built in the game. It is indeed a mighty weapon, although many players have not taken it seriously since the game's launch. If you are a speedrunner, this is your preferred weapon to mesh the bosses rapidly. The Transient Moonlight skill of Moonveil is what makes it so effective; it unleashes a magical energy beam that imposes a significant amount of damage.
One must have 18 Dexterity, 12 Strength, and 23 Intelligence if he wants to use the Moonveil Katana. Due to its strong Intelligence scaling, it is regarded as the perfect deadly weapon for every magical build. In addition, it leads to the accumulation of blood, which increases damage. In the below section, you will learn how to get Moonveil Katana in Elden Ring.
Where to Get the Moonveil Katana?
With the right skills, this Katana weapon can devastating damage, and it is not a much hard and challenging task to get this. If you have the right approach and gameplay mindset, you can find and grab this sword by spending a little time and effort. Towards the right of the map, you will have to go to the Caelid, a dark red area located on the Limbgrave's east. On reaching Caelid, proceed to the Gael Tunnel (a narrow cave close to the border). In this tunnel, you will encounter some enemies before facing the boss. But firstly, you should need to find this small cave.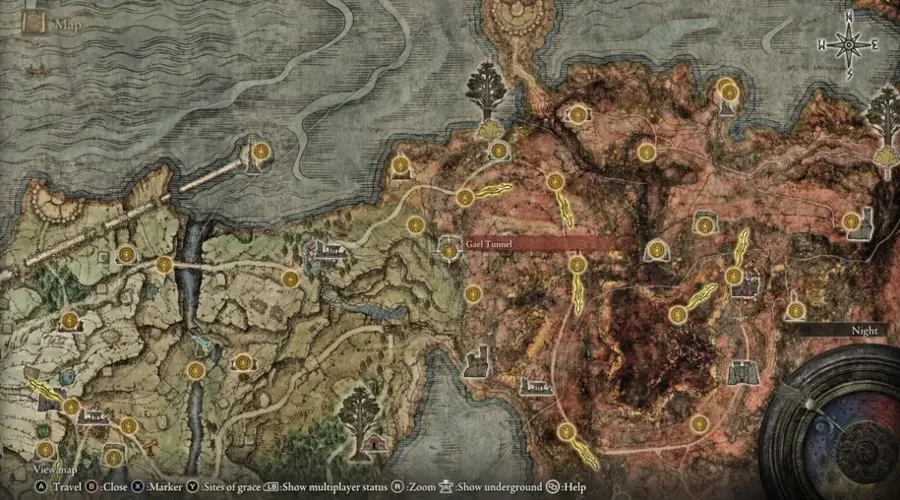 You can get there by heading south from the Rotview Balcony Site of Grace and then across some rocks. Continue on your journey, and you'll come across stone chests filled with golden runes of varying worth. If you keep going down the rocks to the south, you will reach the top of the camp, where you will also find two warriors. It is your choice to fight with them or avoid getting to the Gael Tunnel by locating its entry point in the hills. However, it would be best if you first made your way to the tunnel discharge to quickly depart once you have entered.
Although there are many foes in this cave, you can easily evade them and move over without facing off the boss for now. You need to exit through the gate on the western end of the boss' fog wall, which you can access by moving west. In addition, you should take the back entrance to the Site of Grace.
The Magma Wyrm is the final boss which you will have to encounter. He is not particularly challenging out of all the Elden Ring bosses, but you may find him a real hassle to deal with. That is a large, lava-covered creature situated in a small, cramped area, making movement difficult. Ensure to rely on fire-resistant items and stay near his feet if necessary. Only a few attempts should be all needed for you to overcome this boss.
Elden Ring Moonveil Katana Stats
After eliminating the Magma Wyrm, you will receive the Moonveil Katana. In order to utilize this weapon, you will require:
Strength: 12
Dexterity: 18
Intelligence: 23
Investing in Intelligence and Dexterity upgrades will help you to perfectly utilize the weapon. Additionally, the skill Transient Moonlight feature of Katana is a standout. Aiming horizontally or vertically for attacks is possible using the camera even if the corsair is not set on the opponent. The following are the base statistics of Moonveil Katana:
Damage type: Slash/Pierce
Ability: Transient Moonlight (FP 15/20)
Weight: 6.5
Attack Power

Physical: 73
Magic: 87
Fire: 0
Lightning: 0
Holy: 0
Critical 100
Guarded Damage Negation

Physical: 31
Magic: 57
Fire: 26
Lightning: 26
Holy: 26
Guard Boost: 31

Attributes Required
Passive Effects

Causes blood loss buildup (50)
In Gael Tunnel, once you kill the boss, he will also drop 7,500 Runes and a Dragon's Heart, which means the Moonveil Katana is not the only reward you will receive. You can exchange them at the Church and Cathedral of Dragon Communion for effective Arcane invocations. So, that's all from our side and hopefully, you have found this guide helpful to find the Moonveil Katana in Elden Ring. You can also check out the Elden Ring crossplay guide and how to get every ending in the game.
More Elden Ring Guides
Elden Ring Dung Eater Quest Guide
10 Things About Elden Ring You May Not Have Known