By utilizing the multitude of customization options when creating your character in Hogwarts Legacy, you are given a great degree of control over their appearance. You will get to choose from several gender identities, skin tones, hairdos, and more. Throughout the course of playing the game, you can still make further adjustments to your character's looks in order to customize them even further. With all these options, you will be able to create the perfect look for your character before joining the wizarding world of Harry Potter. Here's a complete guide on how to change your character appearance in Hogwarts Legacy.
How to Change Hogwarts Legacy Character Appearance
If you're not satisfied with the appearance of your character, you have the option to make changes. This is possible after completing the main quest "Welcome To Hogsmeade". At this point, you'll have access to a variety of shops, including Madam Snelling's Tress Emporium, which is identified by a pair of scissors icon.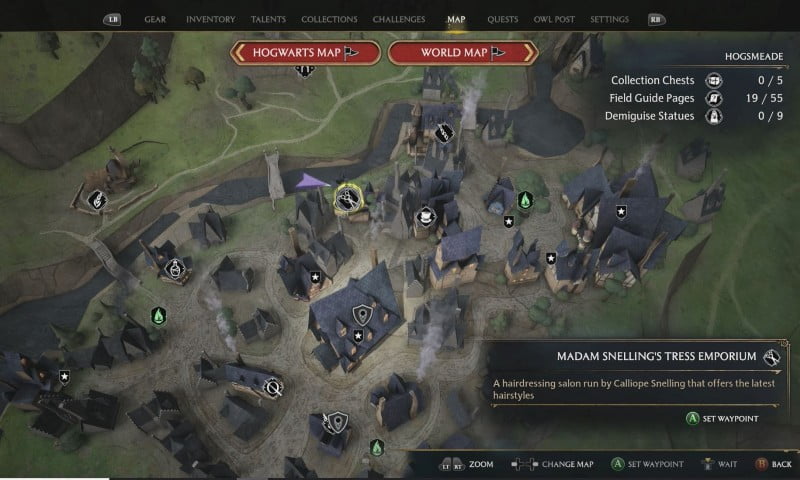 After reaching Madam Snelling's Tress Emporium, you can adjust your character's appearance by speaking to Calliope Snelling. By talking to her, you'll see the available customization options, which can be finalized for a cost of 20 gold. The following features can be altered:
Hair Color
Hairstyle
Freckles and Moles
Scars and Markings
Complexion
Eye Color
Eyebrow Color
Eyebrow Shape
Simply make your desired modifications, click the confirm button, pay Madam Snelling the 20 Galleons she charges for her services, and continue your adventure with a new and fresh look. Further, you can check out the Hogwarts Legacy review and how to unlock doors and chests in Hogwarts Legacy.