If you're a fan of Elden Ring like me, you're probably eager to explore its epic landscapes with your buddies. And I bet the thought of Elden Ring cross-platform play has crossed your mind. Since Elden Ring's multiplayer features cooperative and competitive modes, we may dream about participating in fights and completing the quests with our friends across several gaming platforms. Certain restrictions do exist, and, indeed, you can't play with anyone on every system. As this is currently a hot topic on the internet, we are here with all the necessary information you need to know about that.
Elden Ring has become the top-selling Soulsborne game of 2022, thanks to its massive player base and dope multiplayer components. However, these elements aren't as straightforward to navigate as they were in the predecessors. Given the game's enormous global fanbase, it's clear that loads of Elden Ring fans are eager to roam the Lands Between with their friends, soaking in all the fun together. But what possibilities do you have across different platforms? We know that many top-notch games these days have got our backs with cross-platform support. So what's the scoop with Elden Ring crossplay?
Is Elden Ring Cross-Platform or Crossplay?
Currently, Elden Ring crossplay support is not available. Even though the multiplayer mode is one of our favorite aspects of the game, it's a big disappointment not to be able to join the same lobby when you and your friends are playing on different platforms. Simply put, Xbox, PlayStation, and PC gamers can't play together for some co-op play in Elden Ring. What a missed opportunity; with all those gnarly quests in the game, it would have been awesome to have your buddies backing you up, no matter their gaming platform.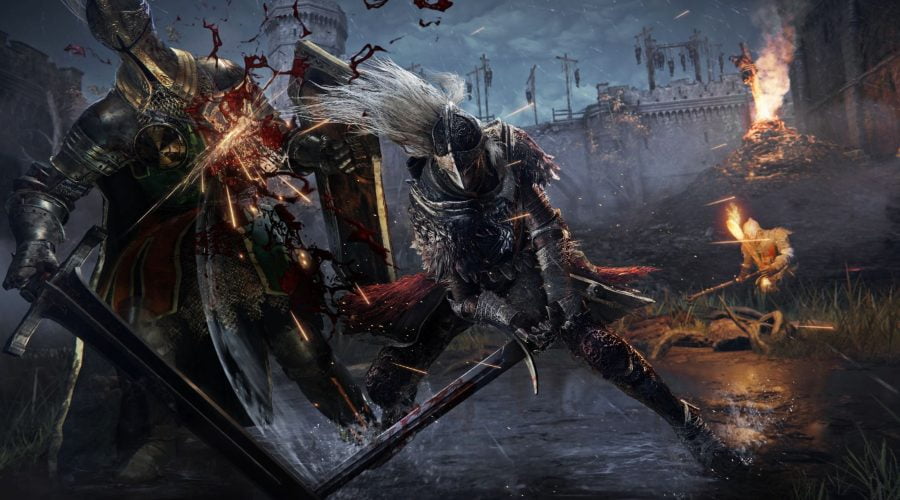 The majority of Elden Ring's gameplay is designed for solo play. But playing lonely often makes things dull, and you may start feeling bored while you can also see it difficult to eliminate the dangerous enemies and progress the game yourself. On the other hand, playing with your friends and teammates becomes an excellent enjoyment, and you can even defeat the game's worst bosses without much difficulty.
The good news is that Elden Ring supports the cross-generation feature. Regarding this, gamers on all Xbox console versions can simultaneously participate in the same game. The PS4 and PS5 players can also team up in the same way. The proper Elden Ring cross-platform multiplayer still needs to be implemented by FromSoftware. However, it appears doubtful and very hard right now.
Will Elden Ring Be Cross-Platform?
When discussing this feature's inclusion in the future, we have no idea about this. Neither Bandai Namco nor FromSoftware has issued a formal statement regarding this support. It doesn't seems reasonable at the time because there is no hint of what's to come. Right now, we can not say anything about it and only hope the developers may give us happy news in the upcoming time by looking at the game's success.
Honestly, I have no faith in it happening soon. After their first releases, the Dark Souls and Bloodborne series never had crossplay functionality added. The game is unlikely to have such capabilities very soon.
How to Play Elden Ring Multiplayer and How It Works?
It's easy to get into Elden Ring multiplayer, and you'll have to employ many types of equipment to succeed, much like you did in Dark Souls. Other players can call you from in-game, leaving signs that indicate your presence. Unlike the Dark Souls games, you do not require any necessities to play the game's multiplayer. Although essential, you can swiftly produce the required gear and equipment in the game.
Your Humanity and Embers have been removed from inventory, as they were in Dark Souls 1 and 3. With that improvement, multiplayer has become more user-friendly than before. Therefore, the lack of Elden Ring crossplay support is regrettable. As a result, we don't have many options and are only limited to a smaller pool of players to play together.
Frequently Asked Questions
Is Elden Ring Cross-Platform PC and PS4/PS5?
Unfortunately, even one of the top-release games of 2022 does not provide the crossplay functionality between PC and PS5. But, what players can do is they can play the game together across PS4 and PS5.
Is Elden Ring Cross-Platform PS4 and PS5?
Yes, there is cross-generation support present in the game. This feature allows the players to play with each other using systems from the same companies. Both PS4 and PS5 users can team up in the game and play as a squad. Similarly, Xbox players can play together regardless of their version.
Is Elden Ring Cross-Platform Xbox and PC?
Same as in the case of PlayStation, Elden Ring crossplay is not allowed for PC and Xbox gamers to have fun in Elden Ring adventure with each other. Unfortunately, we are limited in this regard and can not do anything. We can only look forward, hoping the developers may provide some good news.
Is Elden Ring Better on PC or PS5?
Sony's PS5 is seriously kickin' it with its killer stability. You can game for hours with zero delays or hiccups, all thanks to the top-tier tech powering this bad boy. It's all about delivering smooth-as-butter gameplay that you'll love. Furthermore, the PlayStation features a locked-down system architecture that's pretty solid on the security front.
While gaming PCs on the other side, can sometimes be a bit of a letdown when it comes to performance. And don't even get me started on the virus risks and security headaches! So, if you're all about gaming with no drama, the PS5 is a pretty sweet choice.
Why is Elden Ring Not Crossplay?
No Elden Ring crossplay? As gamers, we know how significant this is. Let's be honest, making video games is challenging, and FromSoftware faces some hard tradeoffs in allocating its resources. Given their limited means, they must carefully select which game components require more concentration.
Crossplay, let's be real, is a bit of a beast. It needs a chunk of change and a heap of time, which might just not be in the cards for the studio. As much as it stings that we can't join forces across different platforms, sometimes that's just how the cookie crumbles. We just need to keep on gaming, folks.
Read More