God of War Ragnarok Dragon Scaled Armor set is one of the most powerful suits of armor available in the game. It provides many advantages to the player, particularly when it comes to dodging attacks and dishing out ridiculous amounts of damage. As such, this set is well worth the time and effort to obtain. But before you delve into the details of this piece of gear, it's important to know where to find Dragon Scaled Armor.
In Ragnarok, the Dragon Scaled Armor is a well-rounded set of armor. It gives you an extra boost of Strength and Defense, and it's also capable of giving you extra attack boosts. However, to get the Armor set, you'll have to complete several side quests. And you'll also need to kill a few drakes and drekis.
How to Craft the Dragon Scaled Armor in God of War Ragnarok
Fortunately, there are several ways to get your hands on this powerful piece of equipment. Aside from purchasing the armor set, you may also craft it. However, the crafting process is not an easy feat, especially if you're not familiar with the intricacies of the game.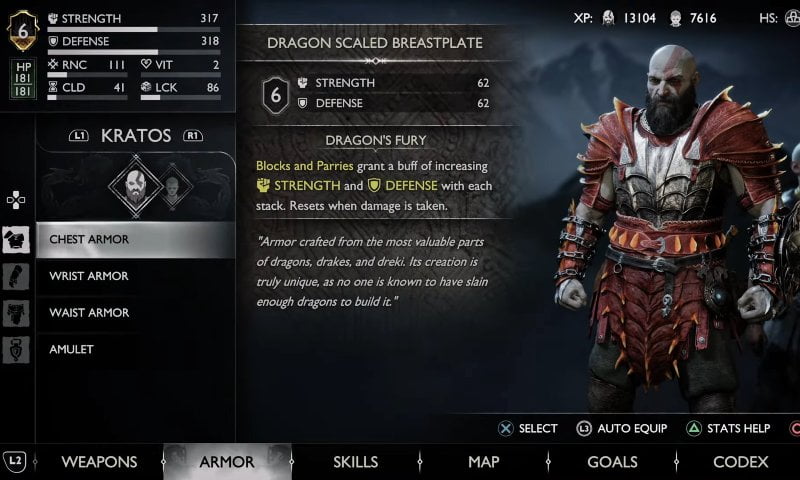 First, you need to complete the Scent of Survival quest. This quest requires players to defeat various deadly beasts and harvest the parts of their bodies to construct an impressive set of armor. Afterward, the player can travel to the Crater to complete the requisite 9 dragon hunts. These can be automated or manually activated. You can also farm and craft materials at a Dragon Hunt. After completing this quest, you'll receive the Scent of Survival favor.
Secondly, you need to complete the Creatures of Prophecy quest. During this quest, you'll visit the mysterious Vanaheim. There you'll come across a number of magical paw prints that lead to a secret location. In addition, you'll need to face off against a number of enemies. If you are lucky, you'll end up with a Dragon Claw.
Finally, you need to complete the "In The Dead of Night" quest. This is a very simple task, but it does require you to fight a Dragon. On top of that, you need to use the proper-sized weapon to do it. Once you've mastered the art of fighting a Dragon, you'll have the opportunity to get the Ragnarok Dragon Scaled Armor. Once you have collected all the required resources, you can easily craft the set.
You can also get a bunch of crafting materials by completing challenges in the Musplehim, such as The Wishing Well. If you don't know where to begin, you can use the magical paw prints to lead you to the boat. Alternatively, you can fight the Dreki in the Eastern Barri Woods, in the Vanaheim region.
Dragon Scale Breastplate
14,000 Hacksilver, 1 Dragon Claw, and 2 Dragon Tooth are required to craft it.
Dragon Scale Bracers
10,000 Hacksilver and 10 Dragon Tooth are required to craft it.
Dragon Scale Girdle
10,000 Hacksilver and 10 Dragon Tooth are required to craft it.
Dragon Scaled Armor Set Benefits
If you are looking to have the best armor set equipped in the game, you should have to consider the Dragon Scaled Armor in God of War Ragnarok. It has excellent stats and gives bonuses for successful parries. When equipped, the set stuns enemies for a longer time and deals 50% more Shield Damage. In addition, it can also be transmogged without losing any stats. Compared to other armor sets, the Dragon Scaled Armor is fairly simple to construct. Besides, having the most powerful armor will certainly make your battles less of a chore.
The other thing to know about the Dragon Scaled Armor is that it's a good way to boost your defense, as you'll be able to parry and block enemies while you attack them. With each successful block or parry, you'll gain a buff to your Strength and Defense. Each time you stack this buff, you'll deal more damage to the nearby enemy.
Another way to boost your strength is to use a God of War Ragnarok Berserker Gravestone. It is a much harder version of the Berserker Soul. It requires you to have a high level of health and to learn how to parry. On top of this, you need to acquire the right skills. In addition to that, you can also obtain an armor piece from the Cliffside Ruins in the River Delta area. While the Cliffside Ruins are a little tricky to get to, it's definitely worth the effort. After you get to the Cliffside Ruins, you can go through the ruined bridge and you'll come across a piece of armor.
More on Ragnarok: