While the previous installments in the franchise have been fairly unremarkable, God of War Ragnarok has transformed things with a new storyline and an impressive array of weapons. With the introduction of the new God of War Ragnarok Mystical Heirloom relics, players can now hone their skills and take on more challenging quests. In this guide, we will describe Mystical Heirloom and give some tips to help you get started.
In God of War: Ragnarok, players are given unrestricted access to the vast stuff available in the Nine Realms. During the entire journey, they will go through different quests, face mini-bosses and collect a lot of items or relics. Particularly effective in a fight, relics grant their users access to previously unavailable skills and weapons. It's easy to see how gamers could put many of these items to use, but the Mystical Heirloom is one that might leave them stumped. You can also read our full God of War Ragnarok review.
If you are planning to play the game God of War Ragnarok you will definitely want to know where to find the Mystical Heirloom. This is something that you should be able to use to help you improve your character's strengths. It is a relic that triggers several miniboss fights and can lead to a Steinbjorn Armor set (one of the best armor sets in the game). There are many different places where you can go and get this element. Here is a complete walkthrough of how to find and use Mystical Heirloom in God of War Ragnarok.
God of War Ragnarok Mystical Heirloom Location
Mystical Heirloom is a mysterious relic found in God of War Ragnarok. Although it isn't clear what it does or why it's there, it's a very important component to have. In addition to helping players find the locations of troll statues, it also provides Slumbering Stones, which are rare crafting materials. But the Mystical Heirloom in Ragnarok doesn't seem to have much practical use in combat.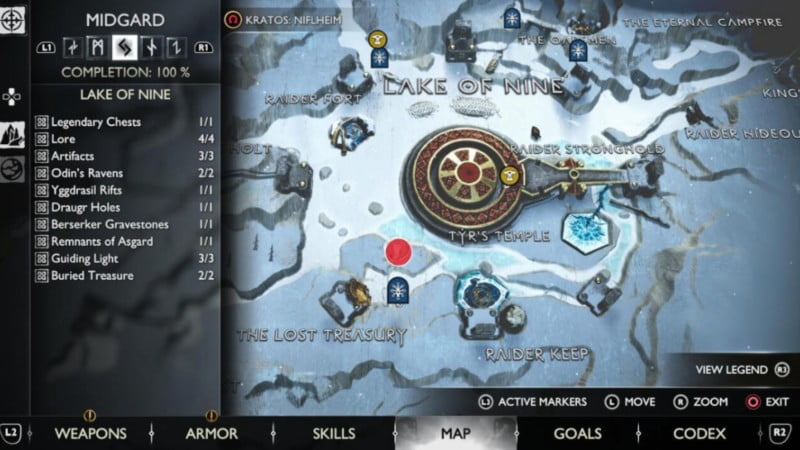 The item is located in Midgard, just north of The Lost Treasury and south of the Lake of Nine. It is also in the area where the ice wall is weaker. The relic can be accessed after you complete a quest called Forging Destiny. Before you complete this mission, you must also have obtained the Draupnir spear as this weapon is the only way to break up ice walls. Once you are equipped with the spear, the area behind the ice wall will open up. After hitting the ice with Draupnir, you will be able to reach the hidden area and the Mystical Heirloom.
The Mystical Heirloom in God of War Ragnarok is located in three different locations. First, you can find it in the area southwest of Tyr's Temple. Second, it's available in the south of the Lake of Nine. Finally, you can locate it in a nearby gap. Once you locate the Mystical Heirloom, your next task will be to activate it. Despite the fact that the Heirloom doesn't have an obvious battle function, it is important to acquire it. You can activate the relic by pressing L1 and Circle on your keyboard. After activating it, it will give you a chance to fight with the four trolls. But you have to equip the relic in a specific location to activate it.
God of War Ragnarok Stone Troll Locations
God of War Ragnarok Mystical Heirloom is a relic that can wake up stone trolls. Each troll has a special move and can be a challenge for players. As you defeat them, you will be rewarded with Slumbering Stones. These stones are a rare crafting material and are essential to crafting a Steinbjorn Armor set. It has excellent defense stats and also has a Bloodthirst Retaliation perk.
These four statues are located in three areas: Noatun's Garden in Vanaheim, Derelict Post in Midgard, and Forbidden Sands in Alfheim. However, the final location for trolls is in the River Delta of Vanaheim, where you will be fighting a dual boss. To defeat these enemies, you can either use a spear or blades of chaos, or you can use the Leviathan axe. In addition to the statues themselves, you can fight other trolls in the surrounding area. As with any enemy, they have different weaknesses, so you'll want to focus on them.
Midgard – The Derelict Outpost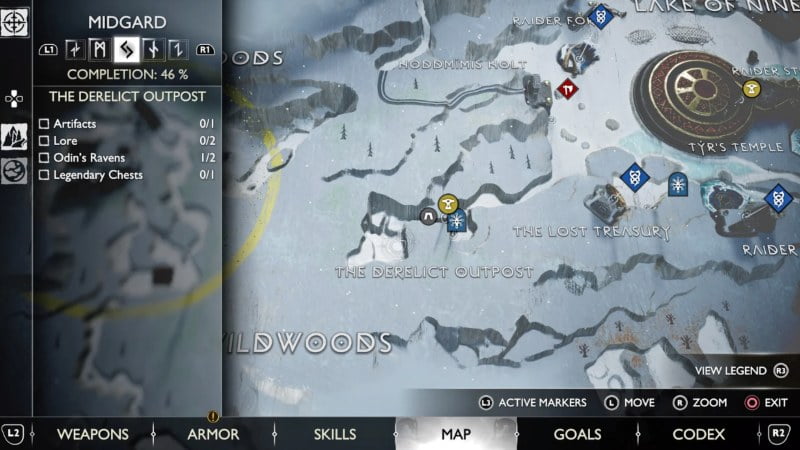 The first one can be found near the Mystical Heirloom at Derelict Outpost. It's located in the southwest region of the Lake of Nine, but you can find it by going down from Tyr's temple. You will have to climb up the tower in order to reach it. Once you have climbed, you can approach the troll statue. You can defeat the trolls using the Leviathan axe or a Blades of Chaos, and the trolls will drop the required Slumbering Stones and additional Poison Protector Enchantment.
Alfheim – The Forbidden Sands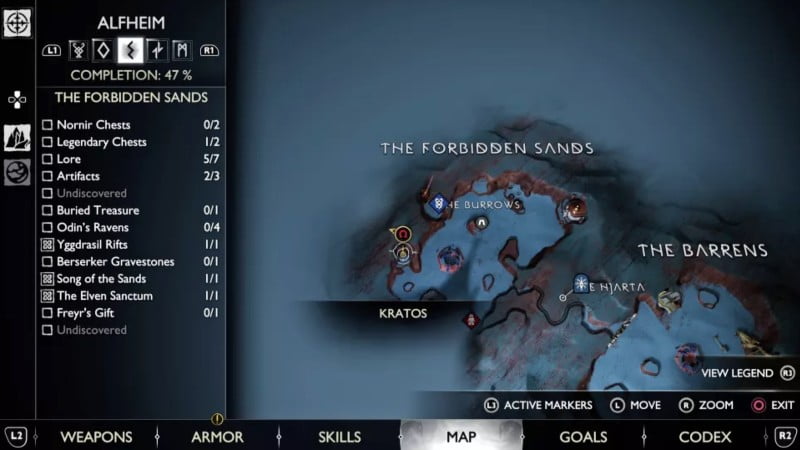 The second place you can find trolls is in Alfheim, in the barren desert of the Forbidden Sands. To reach the second troll, you will have to clear a sandstorm. Upon clearing it, you can then approach the troll statue. This is a large open area with a lot of cranes. It's an important location because it's the closest to the Secret of the Sands. Bjarg Stormr's attack is a bit weaker than that of the other trolls. Defeating the troll will reward you with a Slumbering Stone. After that, you can craft the armor set with it.
Vanaheim – Naotun's Garden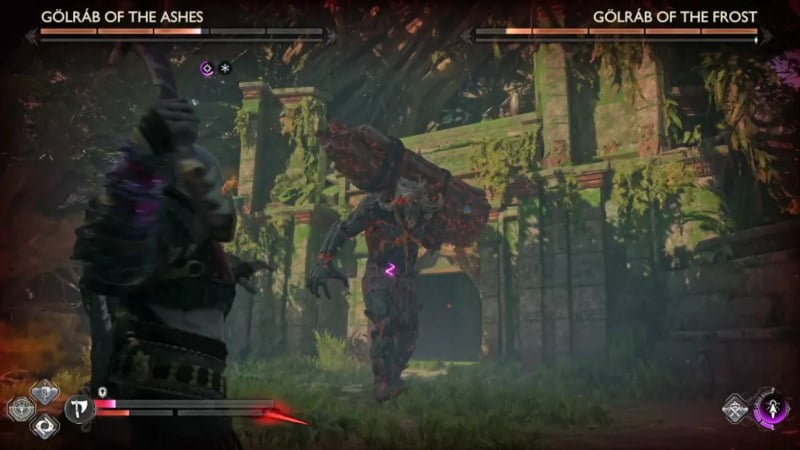 Bosses: Golrab of the Ashes, Golrab of the Frost
Finally, you can travel to Vanaheim, where you will face a duo troll boss in Noatun's Garden. This area is located on the eastern side of the River Delta. This is an optional area, but it contains chests, puzzles, and poisonous scorn poles. If you have to face off against two trolls, you're in for a real struggle. Not only will they try to blind you, but one of them is infused with ice while the other with flame, rendering your weapons useless. As a reward for victory, you will receive not only Slumber Stone, but also the powerful Momentous Stride Enchantment, which will fuel your Permafrost, Immolation, and Malestrom levels during your dodge.
Benefits of Steinbjorn Armor Set
Steinbjorn Armor set is one of the best armor sets in God of War Ragnarok. The set has high Defense stats and is a very good armor to use against enemies. There is also a passive ability in the set that helps heal Kratos when he is badly hurt. The best thing about this set is that it gives you the ability to get your health back after taking a lot of damage. It also has a chance to stun enemies and give you lifesteal – these abilities are very useful during boss fights.
Getting the right Enchantments for the Steinbjorn Set can make it a very powerful piece of equipment. The chest piece has a perk called Bloodthirsty Retaliation. With this perk, Kratos will retaliate if he hits an enemy. The chest piece of the Steinbjorn Armor set also has a perk that rewards you with health if you hit an enemy. Depending on your play style, this will help you reposition or fire off an attack. Alternatively, you can just dodge before launching your attacks. If you are interested in a more aggressive playstyle, you can also combine the Steinbjorn Armor Set with the Regenerating Essence Enchantment.
That concludes our this Ragnarok Mystical Heirloom guide and hopefully, you have found it very informative. Moreover, you can also check out how to beat Dreki in God of War Ragnarok and God of War Ragnarok Berserker Gravestone locations guide.