Undoubtedly, 2022's top-selling game Elden Ring offers a great storyline and fantastic adventure throughout the Lands Between to its worldwide fans. Its quests are among the most profound and exciting we have experienced in the games so far. While completing any objective, exploring the locations, or trying to find any rare Elden Ring item, you will face different angry and dangerous NPC enemies. However, a little Celestia Dew in Elden Ring can help you to make things smooth with the unhappy NPC and make them your alliance. This valuable item is a means of mending fences with non-playable characters in the game.
You can use the Elden Ring Celestial Dew as a consumable. There are a wide variety of consumables in the game, some of which cause harm when you throw them at opponents. While others restore health or remove bad state impacts. Considering a crucial element, the Celestial Dew can be utilized to revalue favor with NPCs and get back on track with questlines or make peace with enemies.
Elden Ring has many foes than can be enumerated, though the game is teeming with potential allies as well. Generally, fighting with an NPC and defeating him is the typical approach to obtain the desired item, but this may often inhibit the players from advancing in the task. Accidentally friendly fire can convert those peaceful characters into dangerous enemies. To overcome such a situation, the Celestial Dew Elden Ring is an essential item, but getting it can be a complex task. For your help, we have created this guide to tell you how to get this crucial item.
Where to Get Celestial Dew in Elden Ring
To get Elden Ring Celestial Dew material, you can obtain it through different NPC vendors in exchange for runes or loot it through the dungeons of Nokstella, Nokron, and Eternal City Site of Grace. Firstly, we will tell you about getting this item without spending runes.
As you travel across the Lands Between, you will also come across different Celestial Dew, and below are the locations where you can find them:
Academy of Raya Lucaria: A dead body leaning against the south entrance of the Academy of Raya Lucaria is where you can find your first Celestial Dew Elden Ring item. However, the Bloodhound Knight watches over this place, so be careful. If you are curious regarding the backstory of Rennala and Radagon, the turtle present on the spot can shed some light on the subject.
Uhl Palace Ruins: By reaching there, you can locate it situated on a dead body dangling over the Ainsel River near the Uhl Palace Ruins.
Nokron, Eternal City: Discover it on the corpse lying in the basement corner ruin in Nokron, Eternal City. You can access this place after crossing the bridge close to the Mimic Tear Fight.
Night's Sacred Ground: You can see a dead body on the side of the street on the ground floor of Night's Sacred Ground in Nokron, Eternal City. Get closer to the corpse to collect the item.
Nokstella, Eternal City: Head over to Nokstella's southwestern area where you will see Dew on a body under a few ruins. Secondly, you can get it by moving to the north part of Nokstella, Eternal City. Here, you will find another corpse with the item on it and some snails guarding it.
Leyndell, Royal Capital: Located on a corpse on the upper level of Erdtree Sanctuary in Leyndell, Royal Capital.
Buying Celestial Dew With Runes
On the other hand, if you want to sacrifice many runes to get this element, you can visit the NPC merchants in the below locations:
Find the Nomadic Merchant beneath the giant gravity beast in the well's center in Ainsel River, and pay 7500 Runes to get 1 item.
Overlook the Manor Lower Level campfire at Caria Manor, where Pidia, a Carian servant sells one Celestial Dew for 5,000 runes. You need to get to the bottom of those hills to the southwestern end of the Three Sisters region, and you can't do it any other way.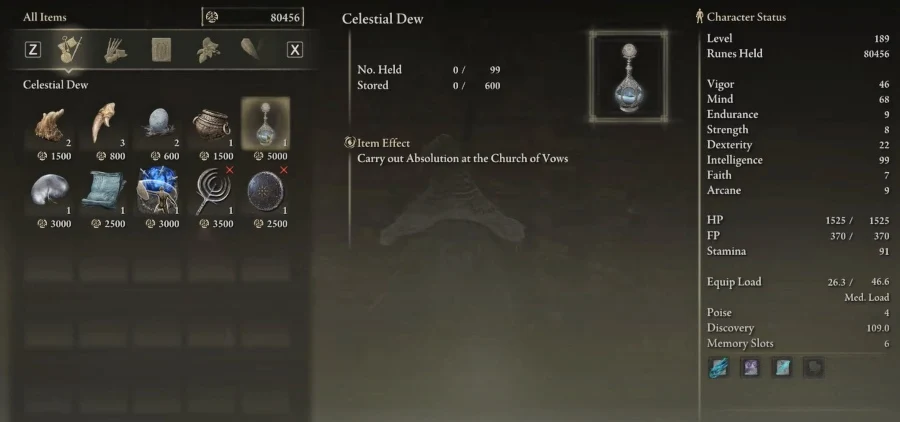 How to Use Elden Ring Celestial Dew
To use Celestial Dew, you must travel to the Church of Vows in Liurnia of the Lakes. You will find it in the territory that leads up to the Frenzied Flame Village from the east. After reaching the spot, you can analyze Dew's authenticity by speaking with Miriel, the massive turtle who serves as Pastor of Vows.
You can use this item to ask for mercy if you have done anything that has upset anyone or ruined a quest. By having a Celestial Dew in Elden Ring, you can use it to atone by going to the statue. You need to spend one item in the process, then all dead NPCs will come back to life, and any nasty enemies will become friends again. As a result, it's now time to advance on quests that you had previously been unable to.
More on Elden Ring: