You can find a lot of Sacred Seals in Elden Ring, and the Frenzied Flame Seal is also one of them. The Tarnished have access to various weapons in the game, including the Sacred Seal. This Frenzy Seal in Elden Ring is a Faith build linked to a Faith stat. When using Attributes, you can increase its level, which is impossible with Ashes of War.
After you acquire it from Hyetta, the Frenzied Flame Seal will be a great addition to your armor collection and provide some benefits to enhance your gameplay. But this requires the completion of Heytta's questline when she becomes Lord of Chaos and is rewarded with the Sacred Seal. Despite its specialized nature, some builds can benefit from this Elden Ring Frenzy Seal. Below, we will explain the Frenzied Flame Seal location and tell you how to obtain it.
What is Frenzied Flame Seal in Elden Ring
Many players in Elden Ring continuously make use of Faith builds to progress. But the unique part comes when they use incantations at just the right time, whether for healing, buffing, or dealing with large amounts of damage quickly. With the new patch releases, the developers have made more enhancements to incantations. Sacred Seals and Faith boosts have never been more accessible than now, and I strongly recommend getting your hands on them. This article will help you to get Frenzied Flame Seal in Elden Ring.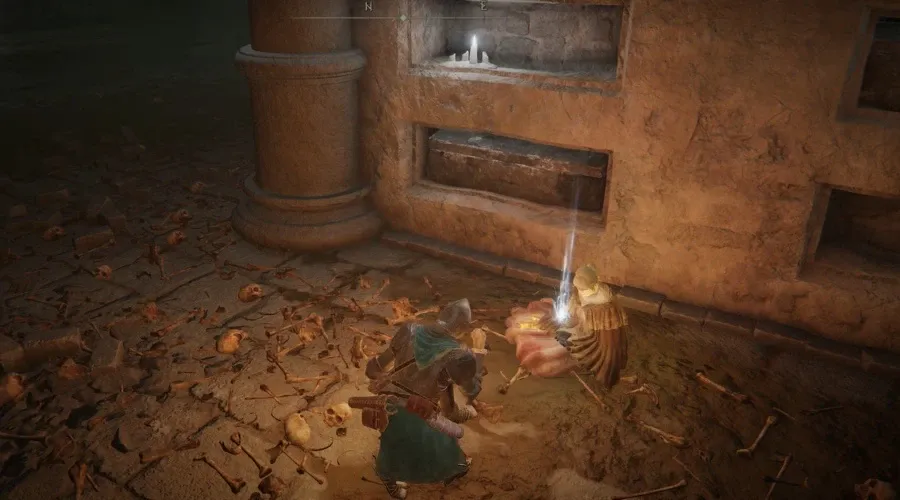 There are not many builds concentrated on this seal. Therefore it's highly sought after and specialized. This Sacred Seal can boost all Three Finger incantations and their associated Frenzied Flame.
It is an excellent choice for weapon upgrading because of its versatility and overall performance. This seal not only boosts madness incantations but also affects the madness accumulation with each blow. If you are unsure about which stat to focus on (Strength, Dexterity, Faith, or Intelligence), this Frenzy Seal in Elden Ring is a good option. Some madness incantations that the sacred seal can buff include:
Flame of Frenzy
Frenzied Burst
Howl of Shabriri
Unendurable Frenzy
With the help of the Sacred Seal, these will become even more effective. However, the seal will not affect the madness that develops due to these chants.
How to Get this Frenzy Seal in Elden Ring
Before obtaining the Frenzied Flame Seal, players must complete several objectives. You must put in the effort to obtain the Frenzied Flame and enhance the madness incantations.
You can only get the Frenzied Flame Seal in Elden Ring after completing the Heytta quest and finding the Three Fingers at last. On reaching the Liurnia of the Lakes, you will meet with Heytta. After having some talk with her, you should need to complete the following series of tasks to reach the finale of the quest:
On receiving the Letter of Irina, you will first meet the Heytta at the Site of Grace near Lake-Facing Cliffs. She will require you to give her a Shabriri Grape. You can find the first grape at Stormveil Castle in Godrick's throne room close to NPC spirit.
After providing her first grape, she will go to Purified Ruins in the Liurnia region. Here, she will ask you for the second Shabriri Grape. After ruining planks of wood to expose the secret ladders, move towards the Purified Ruins' bottom area to get the Shabriri Grape.
Once players have reached Gate-Town Bridge, they should turn around and look for Hyetta to their right. Here, she will demand a Shabriri grape for the third time, and this one will be the last. The final grape will be dropped off by Edgar the Revenger at Revenger's Shack in western Liurnia of the Lakes. You could also tell her the grapes' reality after this.
The next time the player sees Hyetta, they will be at Bellum Church. Rather than demand a usual Shabriri grape, she now requests a Fingerprint Grape, and you will obtain it uniquely from the previous ones. You can pick it up from Festering Fingerprint Vyke, who will drop it near the Church of Inhibition, located at the Liurnia of the Lakes' northeastern end. She will be out from the scene after getting the grape and talking with you, and you will meet her again after a long time.
After you reach the end of the questline, you will again see Heytta in the Frenzied Flame Proscription below Leyndell, Royal Capital. That is the conclusion of her journey to finish the objective.
Upon taking the Frenzied Flame from the Three Fingers, you must speak with Hyetta. Afterward, she hands out a Frenzied Flame Seal to you, which completes the quest, and you will finally get the robust Sacred Seal of Elden Ring. That's all from our side in this guide, and you can also find more Elden Ring content below.
Some Frenzied Flame Seal Tips
There is no ability in this armory. If you have a weapon, on the other hand, with skill, you will then utilize it.
Somber Smithing Stones can be used to boost the Frenzied Flame Seal.
Using Ashes of War to advance this firearm will not work.
With this Sacred Seal, the players can buff Frenzied Flame incantations by up to 20%.
An exclusive ability of the Frenzied Flame Seal is Incant Scaling, which varies with Strength.
This seal does not affect the madness level induced by Frenzied Flame Incantations.
More on Elden Ring: