Whether you're a serious gamer or just someone who loves a good mouse, Logitech has got you covered. They've got fancy high-end ones, but also some that are super budget-friendly; a lot of gamers, pros, and even casual players love them. So, if you're thinking you need to spend a fortune on a great mouse, think again! With the presence of Logitech in the industry, you don't need to worry too much and we are here with our picks of the best Logitech gaming mouse for any type of gamer.
One cool thing about Logitech is that they're big supporters of wireless tech. While some companies save wireless connectivity options for their pricier models, Logitech is spreading the love. As wireless technology becomes more affordable, Logitech is right there, offering it to everyone. And their Lightspeed technology is top-notch, making many of their mice be considered the top wireless gaming mouse – they're not cutting corners here.
We've had a blast trying out a bunch of Logitech mice. From intense shooter games to chill simulation games, we've put each mouse to the test. Plus, we've used them for our day-to-day stuff too, like work and even on the go. After all that, we can confidently say that Logitech really knows how to make a killer gaming mouse.
Logitech G502 X Plus
Best Logitech Gaming Mouse Overall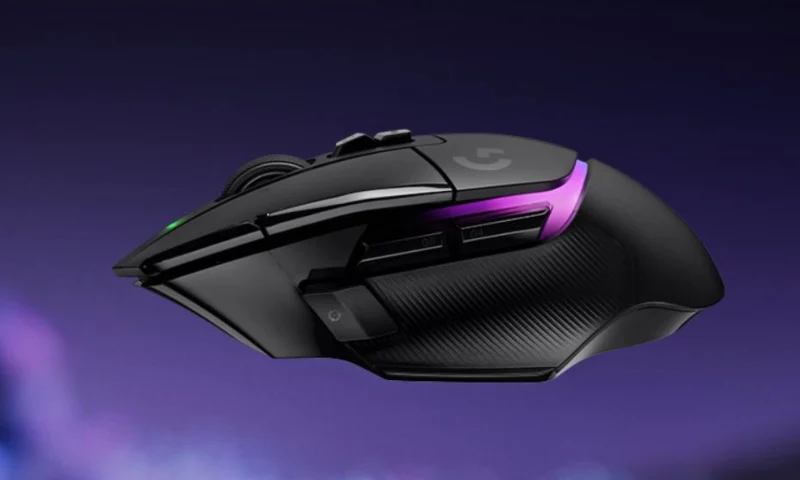 Comfortable for long gaming sessions

Logitech's Hero 25K Sensor

12 customizable buttons for more in-game controls

Wireless charging compatibility

Removed adjustable weight system
DPI: 25,600 | Sensor: Hero 25K DPI Optical Sensor | Ergonomic: Right-handed | Interface: USB, Wireless | Buttons: 13 | Battery: Up to 130 hours | Weight: 106g
Logitech G502 X Plus is the super cool big brother of the G502 model – it's Logitech's flagship mouse, making it the top dog. What sets it apart is its great RGB light bar that gives it that extra flair. But don't worry, it's still got that comfy shape we all love. It's sleeker and lighter than its sibling, the G502 Lightspeed. So if you're gaming for hours, your hand won't get tired. Plus, with a big, bold RGB light element, it's got some real style, especially in white.
Regarding the programmable buttons, there are 13 and almost all of them can be customized. This mouse isn't just good-looking but it's smart too. From the cool sniper button to the Lightforce switches that make your clicks feel extra snappy, it's got it all. This gaming mouse can last up to 130 hours without turning on RGB lights. But if you love those lights (and who doesn't?), you're looking at around 35-40 hours of continuous use without worrying about the next charge. And if you hate charging, just pair it with Logitech's Powerplay charging pad for endless power.
Whether you're in the heat of battle in Call of Duty or exploring the world in Genshin Impact, it's responsive and quick. Plus, with so many buttons, you can customize it just how you like for even better gameplay. With Logitech's G Hub app, you can customize almost everything about this mouse, from the button assignments to the light patterns. The G502 X Plus is like the superhero of gaming mice. It looks great, feels great, and plays great. Sure, it's got a few changes from its older models, but they mostly make it even better. So, if you're looking for a top-notch mouse that's comfy and customizable, this might just be the perfect pick for you.
Logitech G Pro X Superlight 2
Best Logitech Wireless Gaming Mouse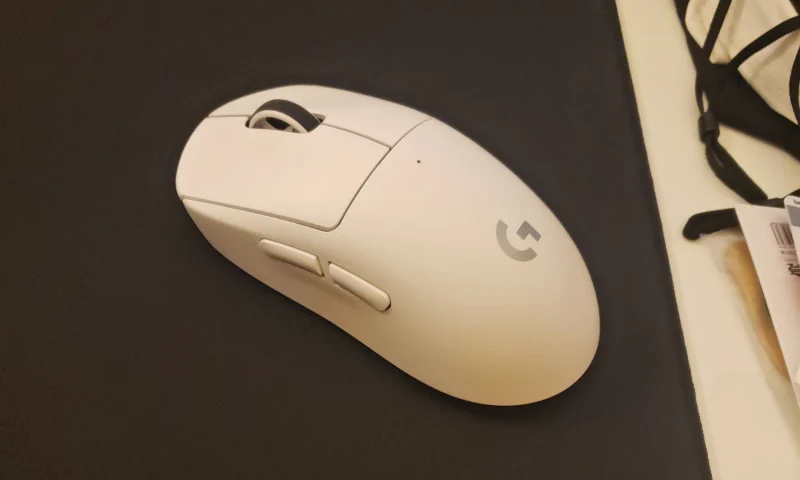 Lightweight design and long battery life

Powerful Hero 2 32k optical sensor

Upgraded USB-C charging port

Improved precision and tracking


Reliable wireless connectivity


Upgrades aren't revolutionary
DPI: 32,000 | Sensor: Hero 2 30K DPI Sensor | Ergonomic: Right-handed | Interface: USB-C, Wireless | Buttons: 5 | Battery: 95 hours | Weight: 60g
Think about that sleek Logitech G Pro X Superlight mouse we all adored. It was a gamer's dream with its lightweight design, perfect for both casual browsing and intense gaming sessions. But Logitech has upped the game with the G Pro X Superlight 2. Imagine the original Superlight but with a sprinkle of magic. The Superlight 2 has undergone a teeny weight drop, now a feather-light 60 grams, a small but impactful change. This means you can glide it around with even more ease. Yet, despite shedding some weight, it's as sturdy as ever.
The best bit is no more fumbling for specific chargers. The Superlight 2 has included USB-C charging; just grab any USB-C cable, plug it in, and you're set. And beneath those buttons is a blend of optical and mechanical switches ensuring each click is sharp and on point. But it's not just about looks or feel. This wireless gaming mouse boasts a new Hero 2 sensor with up to 25,000 DPI, making your in-game movements incredibly precise. Paired with Logitech G Hub software, you can easily customize it to your exact preferences.
For the battery part, this mouse promises a solid 95 hours before needing a recharge. Combine that with the signature Lightspeed wireless tech and zero-additive PTFE feet, and you've got a mouse that's both reliable and smooth. In short, the Logitech G Pro X Superlight 2 isn't about a flashy overhaul; it's about refining greatness. It embodies the perfect balance of form, function, and subtle improvements, letting every gamer, casual or pro have the best tool in hand.
Read details: Logitech G Pro X Superlight 2 review
Logitech G705 Wireless
Best Logitech Gaming Mouse for Small Hands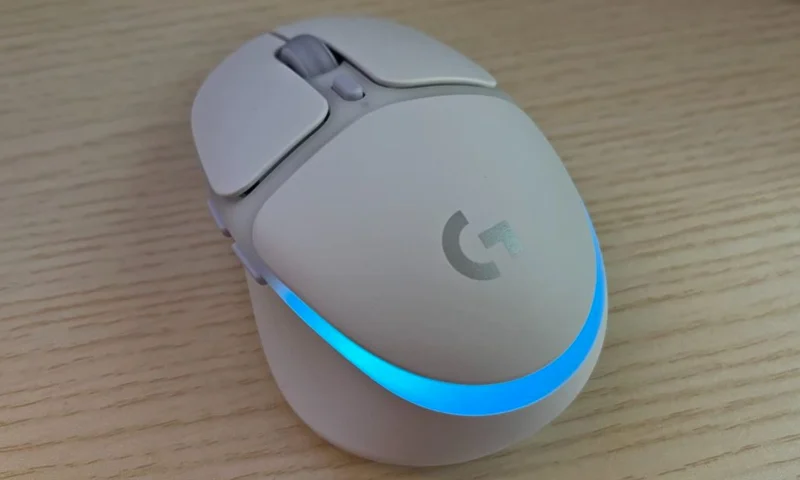 | | |
| --- | --- |
| 2.4GHz wireless and Bluetooth connectivity | |
DPI: 8,200 | Sensor: Hero 25K Sensor | Ergonomic: Right-hand | Interface: 2.4GHz Wireless or Bluetooth, USB-C | Buttons: 6 | Battery: Up to 40 hours with RGB | Weight: 85g
Designed for those who love softer, feminine aesthetics, this Logitech G705 is all about lighter shades like white and pink, offering a refreshing break from the usual aggressive gaming designs. Priced at $99.99, you'd be happy to know it often dips to a friendlier $89.99. The design is simply splendid; small, pristine white, with a captivating RGB strip that beautifully encapsulates its delicate form. It's got side buttons, a clickable scroll wheel, and a handy DPI switch right below it.
Furthermore, you can customize your button functions with the G HUB software. Although the mouse can't toggle between profiles, the software does it effortlessly. Specifically designed for smaller hands, the mouse's ergonomic contours make it comfy despite its tiny stature. However, switching from a full-sized gaming mouse like the Razer Basilisk V3 Pro, it did feel unusually small initially, but you'll get the hang of it.
What's super cool is it connects via a LightSpeed 2.4GHz or Bluetooth, you can link up with devices from Windows, macOS, iPadOS, to iOS. Plus, it's ultra-portable. Charging's a breeze with its USB-C, and it gives a decent 40-hour run, even with the RGB charm on. Its 85g weight might feel a tad heavy due to its size, but it's really about personal preference. With a DPI range of 100 to 8,200 and a pastel RGB preset, it's not only functional but appealing. Gaming-wise, it's fab for FPS but might feel limiting for MOBAs. On the other side, the quick device switching is a blessing for work, but it might take time to adjust to its size. If you want a compact Logitech gaming mouse without compromising on features, the G705 is your go-to.
Logitech G502 Hero
Best Budget Logitech Gaming Mouse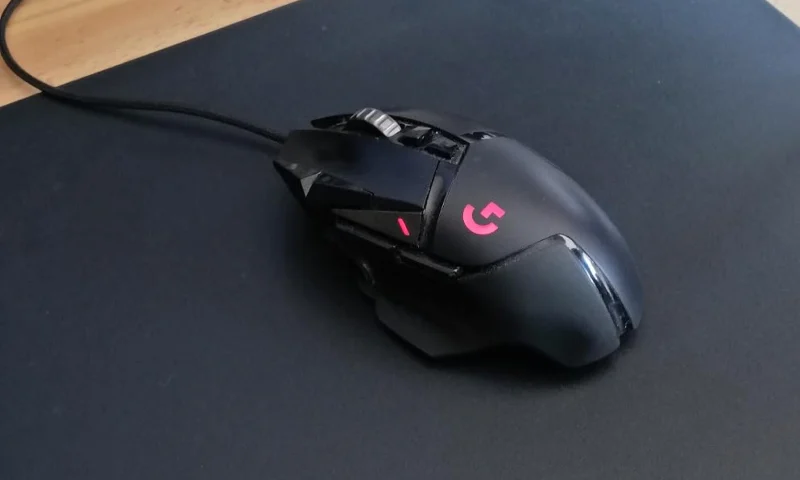 Top-notch wired gaming mouse

High-performance Hero 25K sensor

A lot of programmable buttons

Great dual mode scroll wheel

Not ideal for all surfaces

High chances of accidental misclicks

Base weight is not as light as some other mice
DPI: 25,600 | Sensor: Hero 25K Sensor | Ergonomic: Right-handed | Interface: Wired | Buttons: 11 | Battery: N/A | Weight: 121g
Logitech G502 Hero, even though it's been many years since it hit the shelves, but for gamers who swear by wired mice for that uninterrupted connection, this one's a real treat. From the get-go, the G502 Hero feels snug in your hand. It's tailored for supreme comfort, which means gaming marathons just became a breeze. The mouse is decked out with customizable features, including adjustable weight, button mapping, sensitivity settings, and let's not forget the flashy lights – a true gamer's delight.
Visually, it's a stunner – the angular design, sleek buttons, and subtle lighting make it both functional and stylish. And underneath its sleek exterior lies a space for optional weights. If the weight is not enough for you and want a heavier feel, just pop them in. Moreover, the G502 Hero doesn't hold back with 11 programmable ones. Fancy adjusting your DPI on the fly? Use the dedicated buttons. And if you switch between games or characters frequently, the onboard memory lets you save your button layouts.
The scroll wheel gets its moment to shine too, you can pick between tactile or free-spin modes. While the tactile mode offers controlled scrolling, the free-spin is for those who live life in the fast lane. It spins rapidly, so make sure you're ready. Considering the heart of the mouse – the Hero 25K optical sensor is Logitech's ace, boasting a DPI range from 100 to 25,600. So, whether you're playing on a 4K monitor or just dabbling in casual gaming on a 1080p screen, this mouse adjusts brilliantly.
Logitech's G-Hub software is also there for more personalized control, though it has room for improvement, you get to customize the lighting to match your gaming setup's aesthetic. The G502 Hero is a top-tier cheap wired gaming mouse without the hefty price tag. It's ergonomically sound, super customizable, and designed for every gamer's whim.
Logitech G Pro Wireless
Best Logitech Gaming Mouse for Esports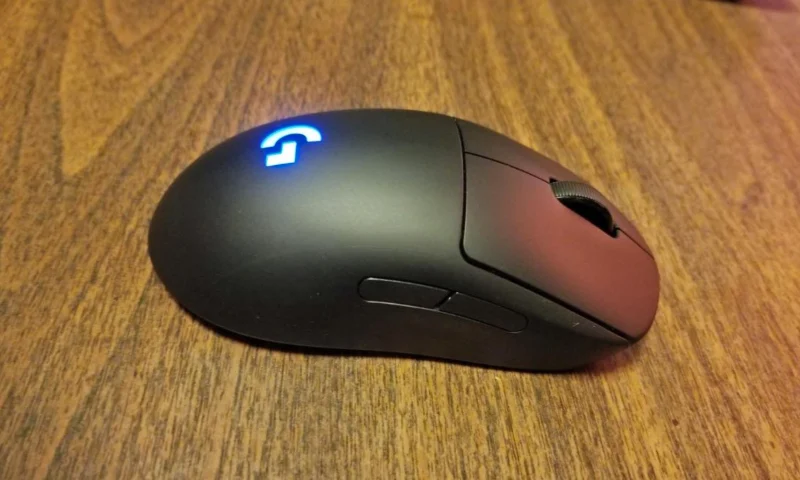 Impressive lag-free performance

Suitable for both right and left hands

Precise tracking and high accuracy

Not as ergonomically tailored

Lack some features of the newer mice
DPI: 25,600 | Sensor: Hero 25K Sensor | Ergonomic: Ambidextrous | Interface: Lightspeed Wireless with USB dongle | Buttons: 8 | Battery: Up to 48 hours (Rechargeable) | Weight: 80g
Though the Logitech G Pro wireless gaming mouse has been around since 2018, it's still a top pick among gamers. Why? Well, it's equipped with Logitech's outstanding HERO 25K sensor. Its sleek ambidextrous design ensures it's suitable for both righties and lefties. And, if you're into a minimalist look, its black matte finish with a cool RGB accent on its logo will surely impress.
Its $129.99 price tag might seem a bit on the higher side, but considering its impressive performance, it offers good value for money. We wanted to know if it could stand against newer mice in the market, and the answer is a definite yes. The G Pro feels great to use; it's light at 80g and fits smoothly in your hand, whether you use a palm or fingertip grip. The side buttons are conveniently placed for quick game commands, and its power button, DPI shifter, and USB-C port are neatly tucked underneath.
Using the G Hub software, you can customize each of the 8 buttons, set the RGB, and adjust the DPI settings range from 200 to 25,600. Regarding the battery life, it can last up to 60 hours without RGB. If charging isn't your thing, it even works with Logitech's PowerPlay charging mouse pad. In terms of performance, whether you're navigating a battlefield in Apex Legends/Fortnite or mastering moves in other titles, this mouse doesn't disappoint. Its precise clicks and incredible tracking make for a smooth playthrough. If you're in search of a reliable, high-performing wireless gaming mouse, the Logitech G Pro is definitely worth considering.
Logitech G903 Lightspeed
Best Left-Handed Logitech Gaming Mouse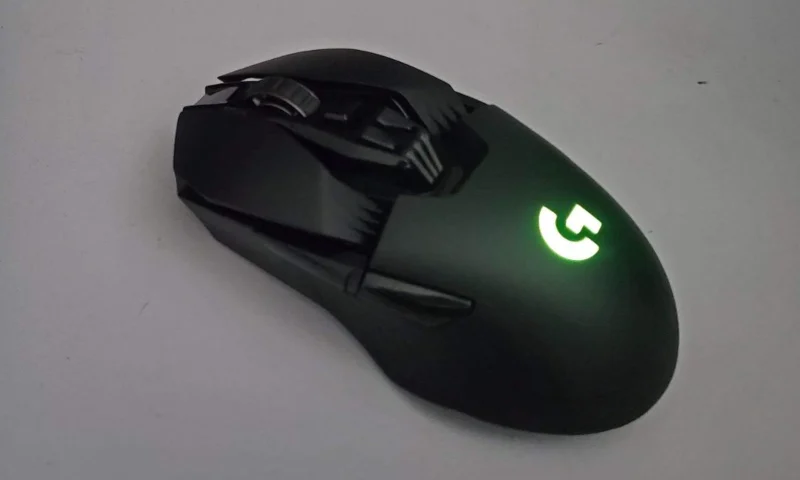 Wireless with wired option

Wireless charging compatibility

Only suitable bigger hand
DPI: 25,600 | Sensor: Hero 25K Sensor | Ergonomic: Ambidextrous | Interface: Lightspeed Wireless with USB dongle | Buttons: 11 | Battery: Up to 140 hours with RGB (Rechargeable) | Weight: 110g
Logitech G903's ambidextrous design means it's not just for left-handed gamers, but it surely gives them a quality option. And to be honest, even after all this time since its debut, it remains a top contender in the gaming mouse world. The G903 boasts a comfortable ergonomic shape that feels like it was made for your hand. But the real fun is the removable thumb buttons – perfect for switching things up based on the user. And speaking of buttons, the clicks on this mouse are a chef's kiss. It's the most satisfying click I've ever experienced, both in sound and feel.
The metal scroll wheel up top is a real show-off too; it can go side-to-side, spin freely like a top, or give you that classic notched button feel. Further, the Hero 25K sensor is the superstar behind many of Logitech's best mice. The G903's movement tracking is amazingly sharp, even at a wild 25,600DPI. Although it's a wireless model, you can charge it using Logitech's wireless charging kit. It's a bit of an extra splurge, but worth it. Or, for the traditionalists, plug it in and go wired. But that's just a bit quirky; either way, the G903 is a masterpiece.