Apex Legends has been making waves in the gaming world and it's easy to figure out why this game has become so popular; it's a standout in the battle royale genre. It's a game that has us going back thanks to its interesting myths, exciting mechanics, and constant updates.
In today's post, we will discuss Apex Legends crossplay support, a feature that has drastically changed the nature of online multiplayer games. When we can team up with our pals, it doesn't matter if they're playing on a PC, PlayStation 4, Xbox One, or Nintendo Switch, this is a huge gain for gamers as a whole. So, strap in as we explore more of Apex Legends' cross-platform functionality in the below section.
Is Apex Legends Crossplay or Cross-Platform Multiplayer?
So, without further ado, let's dive into the meat of the matter: cross-platform ability in Apex Legends. This is where things get interesting. Apex Legends does indeed support crossplay across the different platforms – PC, PlayStation, Xbox, and Nintendo Switch. This means that no matter what your gaming platform of choice is, you can team up with or face off against players from other platforms.
However, if you're an Apex Legends Mobile player, you'll have to miss out on this exciting opportunity. It's too bad that cross-platform play isn't available on mobile devices currently. However, that shouldn't dampen your spirits, Android players. You still have a whole world of Apex Legends to get entertain yourself by fighting and exploring the game's realm.
How to Add Friends on Apex Legends Cross-Platform?
So, here is a bit of the tactical part of cross-play support in Apex Legends. You're ready to squad up with friends on multiple platforms, but how do you make that happen? It's simpler than you might think. First, you'll need your friend's in-game name. That's the key to connecting with buddies across different platforms. Once you have that, you're ready to roll.
Here's your game plan:
Launch your game.
Head over to the 'Friends' tab.
Click on the 'Find Friend' option.
Enter your friend's in-game username and hit search.
Find and select their profile from the drop-down menu.
It is important to remember that the game will look for a player with the provided name on all platforms, so you must choose an account name that corresponds to the system your friend is using.
How to Enable or Disable Crossplay in Apex Legends?
Here's another matter to put some lights on and it's that Apex Legends automatically enables cross-platform multiplayer when your start playing the game for the first time, which means you're all set to play with or against players between different devices. But what if you want to stick to your own platform? Maybe you want to keep the competition within your console/PC family, or perhaps you just prefer the gameplay on your specific system. Whatever the reason, Apex Legends has got you covered.
Here's how you can disable crossplay:
Head to the 'Game Menu' while you're in the Lobby.
Select 'Settings'.
Scroll down until you see 'Cross Platform Play'.
Change the setting to 'Disabled'.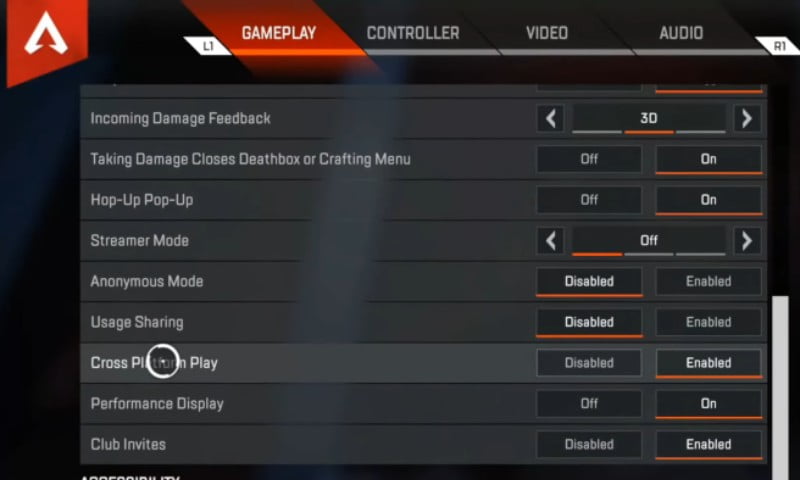 That's all there is to it. You have turned off Apex Legends cross-platform for future gaming. Be aware, though, that by reducing the number of possible participants, you may end yourself waiting longer until you find the match lobby. Think carefully about your choices and go with the one that serves you best. However, you can simply follow the same steps if you want to enable the cross-play again in Apex Legends.
Is Apex Legends Cross-Progression?
Now, let's tackle another important aspect of the Apex Legends gaming experience – cross-progression. This is where things get a bit tricky. As of now, Apex Legends does not support cross-progression. As a result, your progress and stuff won't transfer if you play on one platform but move to another. So, if you've been grinding on your PlayStation and decide to switch over to a PC, you'll be starting from scratch.
However, there's a silver lining. The devs team at Respawn is aware of the benefits of cross-progression and they've confirmed that they're working on it. While there's no official date yet, we can expect this feature to be added to the game in the future. So, keep your eyes peeled for updates.
Bottom Line
Okay, this is the last bit of information we need to wrap up with the details. Apex Legends crossplay is available on PC (through the EA App & Steam), PlayStation, Xbox, and Nintendo Switch. What this implies is that you can play wherever and however, you like.
Though, keep in mind that cross-progression is only possible while switching across the EA App and Steam. Any other scenario will result in a complete reset of your progress. So, if you're thinking about making a switch, make sure you're fully informed about what that means for your game progress.
As for Apex Legends Mobile, it's a completely separate game from the regular Apex Legends. This means that cross-play will never be possible in its current state. So, mobile gamers, you've got your own unique Apex Legends experience to enjoy.
And there you have it – everything you need to know about crossplay in Apex Legends. Whether you're an experienced player or just getting started, you'll benefit from knowing how to use these available possibilities. Now, gear up, gather your squad, and get ready to become the next Apex Champion.