The Harry Potter universe has been delighting fans for years, and now they have the chance to live out their dreams of attending Hogwarts with the release of "Hogwarts Legacy." This open-world action RPG puts players in the shoes of a fifth-year student at the magical school, with the chance to explore the castle and experience all the wonders of its iconic halls. Players have the freedom to hone their peculiar abilities, make choices, and share a version of the world that is rich in magical detail. Whether you are flying a broomstick through the Forbidden Forest or dueling with dark wizards, you will be able to immerse yourself in the rich and vibrant world of Harry Potter like never before.
Harry Potter fans have been eager for a new game in the franchise, and Hogwarts Legacy certainly seems like it could be that. Developed by Avalanche Software, it promises to be an entertaining and magical journey with a selection of the series' most popular spells. However, due to its release context, this game contains some concerning subject matter that should not be ignored. Issues such as violence, classism, and prejudice are explored. While these social issues are notably present, they may be difficult for some gamers to deal with. Despite this, those who choose to play Hogwarts Legacy will still enjoy an open world full of exciting secrets and spell-slinging fun. Overall, Hogwarts Legacy looks to be another fantastic entry into the Harry Potter universe but its subject matter is something that cannot be overlooked.
Avalanche Software's new RPG offers a great Hogwarts experience for fans of the series, giving them a chance to explore an open world set in an earlier stage of the wizarding world 100 years before the adventures of Harry, Ron, and Hermione. Players can take part in a lengthy main quest spanning 35 hours and witness enchanting visuals and magical effects that bring the world to life. Though some of the more dated open-world elements detract from the overall experience, they hardly prevent this compelling adventure from being successful in its goals of providing players with an immersive journey through one of literature's most beloved settings.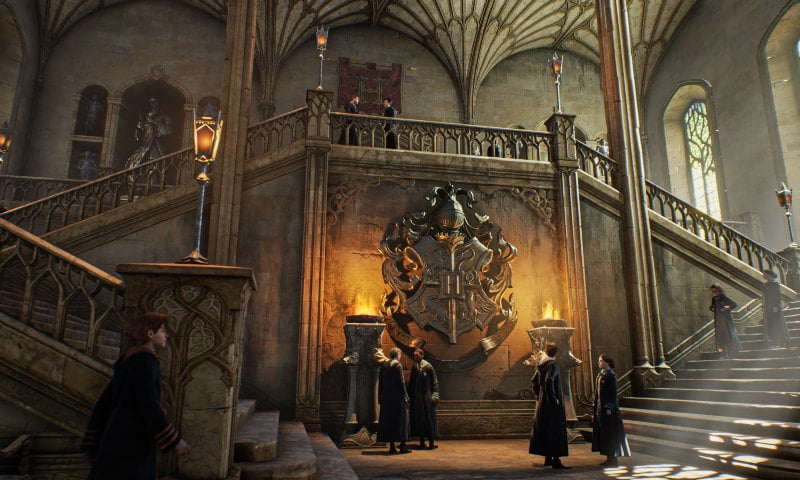 The tale of the game has its share of undeniably nonsensical plot flaws, something most fans have come to expect. In the popular RPG third-person action-adventure game, players take on the role of a fifth-year witch or wizard that has transferred to Hogwarts for unspecified reasons. During their stay at the magical school, players will attend classes, fend off gigantic spiders with spells, and even fly around on a hippogriff — all part of the classic Wizarding World experience. While its writing may be lacking in places, it still remains a compelling and enjoyable experience for longtime fans looking to explore the world of magic once more.
The interesting character creator has plenty of options for players to create individualized characters and customize them in almost any way possible.
You can make a witch/wizard that is unique to you and tailor their look, traits, skills, and more. Once the character is crafted, they are thrust into an enthralling storyline where the Wizarding World clashes with a dangerous demon force bent on destruction. Furthermore, your ideal magical character will even come pre-equipped with some special magical power ready for use against dangerous enemies (although its purpose may not be clear at first). This creative 'escape' allows for an immersive adventure where your magic-wielding alter ego can thrive while also an incredibly exciting concept that is sure to draw players in and keep them playing for hours on end.
Hogwart Legacy follows a group of characters, brought together by fate, as they struggle to protect their world from the forces of evil. The story has plenty of action with fighting and explosions as they attempt to keep the villains from taking over. It's not particularly unique or ground-breaking but it does feature some interesting twists so you won't be bored through its relatively short length. At times, it does go a bit too long into the backstory but overall it's an interesting ride that might help tide you over until the sequels eventually come. Once the introduction is out of the way, it quickly transitions into a complex and interesting conflict between good and evil.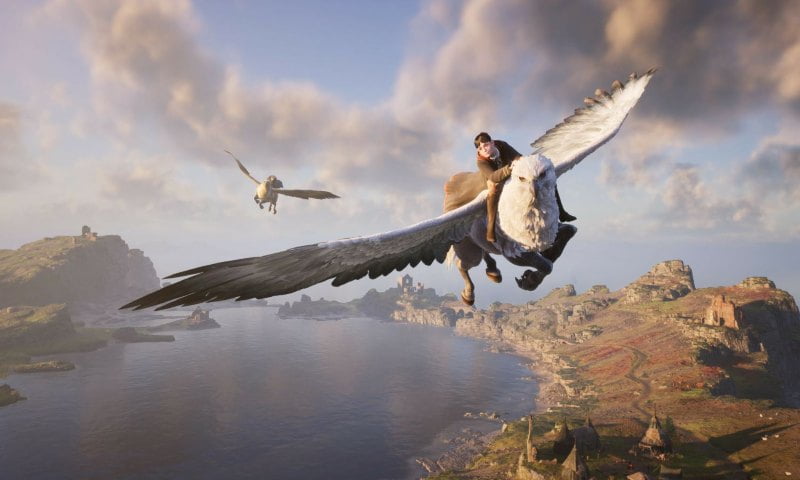 Hogwarts Legacy has succeeded in achieving a balance between drama and fantasy. It is not a school simulator, but rather a role-playing game that allows players to immerse themselves in the world of witchcraft and wizardry. There's a sense of adventure and exploration as you explore each nook and cranny of the castle, meeting fellow students and learning spells that can be used in combat or to identify objects around you. The classes in the game provide an opportunity to become acquainted with the school's multitudinous students and to find out more about your professor's past. Interacting with these characters is one of the most enjoyable aspects of the game, as it allows you to connect with the world you are exploring.
The characters in Hogwarts Legacy are incredibly memorable and likable, and I enjoyed spending time with them throughout my experience. From Sebastian the charming Slytherin to Natsai the intelligent Gryffindor, each character felt vivid and real. I especially loved embarking on quests with my friends, as it brought an element of camaraderie to my playthrough. Not only did this help me hone my magical skills, but it made me feel as though I actually belonged at Hogwarts. That sense of community is something I will deeply treasure from my time as a student during gameplay.
The game's visuals are fantastic, retaining the oddball charm that made the genre a successful hit and adding touches of magic to every moment of play that drives home the fact that the player is immersed in a fantasy realm. However, there have been numerous technical issues that have hindered my experiences, such as the occasional pop-in that occurs whenever rapidly traversing the landscape and certain strange pauses in motion and fighting.
Fighting is entertaining, mainly due to the incantations you're sending forth and the sequences that go with them.
The incantations you utter and the subsequent scenes add a lot of flair to the fight. The adversaries I've faced so far haven't pleased me with their sophisticated attacks, and there hasn't been enough variation in the sorts of enemies. Although the players can nonetheless enjoy the challenge of learning enemy weaknesses and exploiting them with the right spells. Color-coded shields can be broken with specific attacks, adding an extra layer of complexity. The thrill of magical combat and the sensation of being in the middle of a situation packed full of action and excitement is a major draw for combat.
Likewise, the thrill of discovery is unparalleled. Flying around with a broom provides a unique navigation experience that is both fun and rewarding when looking for hidden puzzles or chasing flying keys. The map is large, but thankfully, there are many fast-travel spots that help keep it manageable. This makes it easy to explore more of the environment and helps maintain the vibe of the original stories inspiring the game.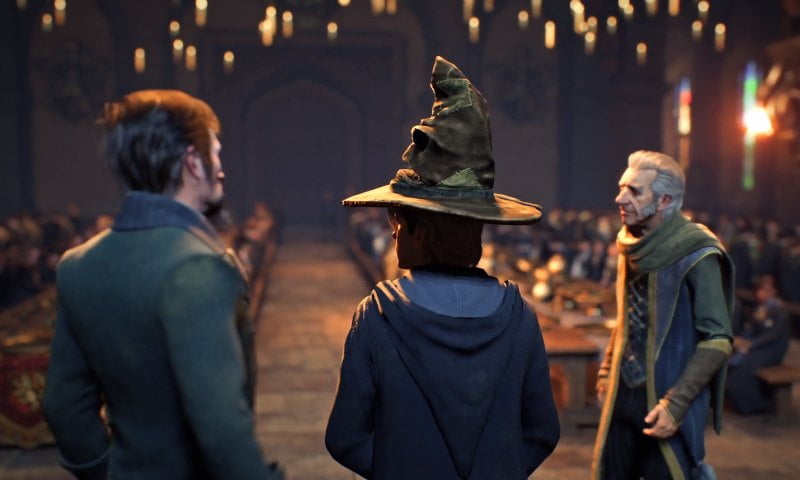 It's a great deal of fun to complete in-game quests and challenges to earn experience and new upgrades, which in turn unlocks new levels. Moreover, the reward system based on tangible rewards makes you appreciate the effort being put into these tasks by allowing you to have functional progression and cosmetic changes that make your character look special. In addition, acquiring new gear is a blast because of a clever system that lets you keep your functional upgrades separate from the aesthetic ones. While it can be overwhelming at times with too much finding equipment that is not beneficial or necessary, it adds a sense of adventure when discovering new items which are aesthetically pleasing.
Legacy's performance issues are an unfortunate breaking point for the otherwise spellbinding journey through Harry's beloved world. During my time playing on the PlayStation 5, I encountered framerate inconsistencies, lighting issues, and annoying pop-in while moving around quickly, it's clear that the PS5 is having trouble keeping up with Legacy's packed content. In addition, loading screens are still present for most doors throughout Hogwarts, despite this being a generation of consoles that was supposed to bring an end to them. While it is understandable, given the sheer amount of content and magic in this game, the performance issues do detract from the overall immersion.
Even ignoring the game's technical flaws, Legacy is a janky experience. Chances are you will find yourself plunging through the arena an occasion or two, witnessing an entity stuck to the backdrop, or maybe even observing the NPC you're gossiping with depart your sight while still in discourse, imparting you stranded to communicate with the nothingness they were standing in for around minute or two. While these are no game-breaking glitches and the frequency of these occurrences is not so bad as to become infuriating, it is nonetheless an annoyance. Legacy offers a unique and enjoyable experience that more than makes up for these minor inconveniences.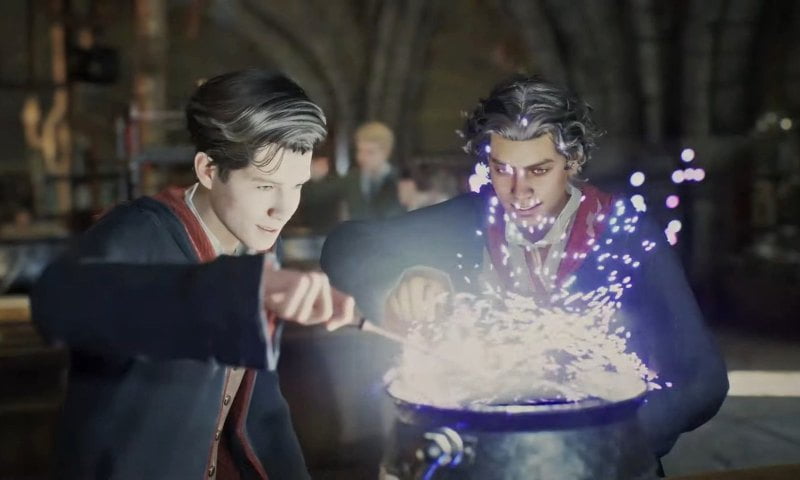 The unfortunate context that surrounds Hogwarts Legacy is two-fold. First, there is the bigotry associated with J.K. Rowling's comments which casts a pall on any property she has been involved in creating. Secondly, there lies a seemingly endless grind to progress through the game which feels all too familiar for players who have already gone through open-world games with long lists of collectibles and complicated equipment setups. This can be disheartening even at the start of Wizarding World as it can be difficult to discern what will actually make a difference in the endgame until after many, many hours have been spent exploring every nook and cranny of Hogwarts Castle and its grounds. It is clear that a lot of effort has gone into making this game, and I hope it will be able to overcome its current issues and be more enjoyable for all fans of the Harry Potter universe.
Final Verdict
Hogwarts Legacy truly is the Harry Potter RPG that any fan of the series has been dreaming of. Every aspect of the game respects the original world-building, with memorable characters and challenging yet entertaining combat. It was easy to become immersed in the game as I explore its open-world layout, and it took dozens of hours before any technical issues or unimpressive story would pull me away from it. Even though these setbacks exist, they don't break the tale's power to capture my imagination and let me experience a Hogwarts fantasy. The combat and student life mechanics are both top-notch, with interesting and complex mechanics that put a refreshing spin on the tried-and-true RPG formula. I would recommend Hogwarts Legacy to anyone looking for an immersive and enchanting way to explore the Wizarding World.