A clue of PC hardware trends can be found in the popularity of Steam games. According to its monthly hardware poll data, for example, papers might examine the conflict between Nvidia and AMD, discuss the rise of 6-core CPUs, or depict a dramatic shift in the VR headset industry. The growth of PC gaming is also reflected in Steam's data, which shows that PC gaming is one of the most preferred spots for gamers. As Steam sets record again as it reaches nears the 30 million concurrent user mark, we're taking a closer look at these numbers.
There were nearly 28 million active users at the start of 2022 and now there are more than 29 million, according to a blog article from TheGamer. Since then, we've seen a significant increase in the population. There were 28.2 million concurrent users when the year began, and now Valve is squeezing out the final million people to hit the 30 million mark.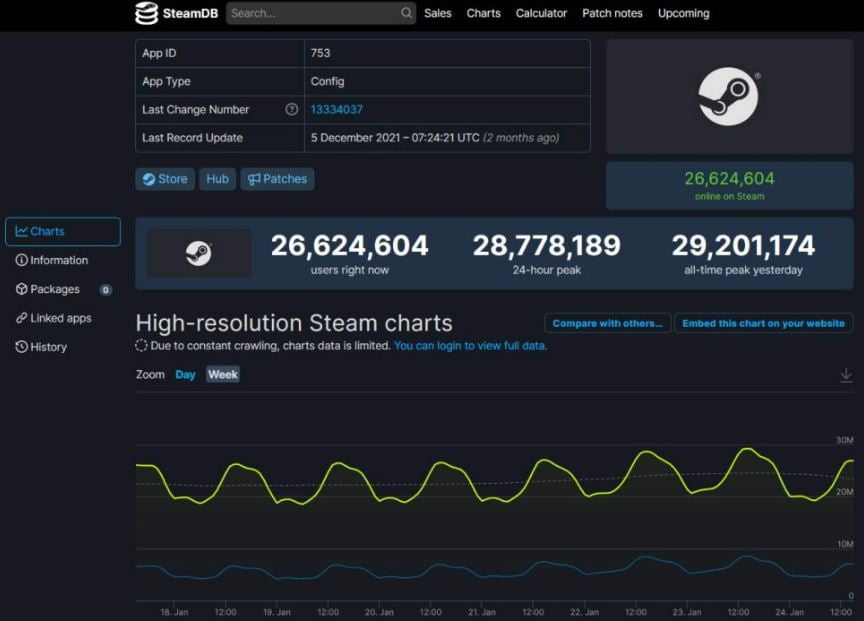 Several things are at play, as usual, if you're wondering what's behind the current surge. As of this writing, Valve's Dota 2 and Counter-Strike: Global Offensive (CS:GO) titles have attracted about 900K and 787K active gamers during the last 24 hours.
Additionally, PUBG: Battlegrounds' recent F2P model switch is likely to have had a big impact on the game's massive rise. It's safe to assume that this already popular Battle Royale game earned a lot of new fans when it was made available for free. PUBG has been played by more than 600,000 Steam users in the last 24 hours, according to Steam.
Even while maximum user counts typically decline following the holiday season, this year they haven't yet, as TheGamer points out. In order to explain Steam's steady development as we near the end of January, the company just mentions "the ongoing pandemic and possibly a few late Christmas presents." Let's see what the Steam concurrent user mark will be at the end of the year.