Genshin Impact 3.4 update is an upcoming major version of the game that will introduce new story content, map, and characters, as well as a range of quality-of-life improvements. With plenty of new characters and abilities, events, challenges, and rewards to explore, Genshin Impact 3.4 promises to keep players engaged for hours with its expanded scope and varied offerings. This major update is certain to revive interest in the title for gamers. You may also want to check out some Genshin Impact tips.
So if you're eager to explore Teyvat's newest domain and experience all the upcoming features brought by version 3.4 – make sure you don't miss out! Below, we have explained everything you need to know about this upcoming Genshin Impact 3.4 update including the release date, characters, events, skins, and TCG information.
Genshin Impact 3.4 Release Date & Livestream Time
On January 6, 2023, at 7:00 AM (UTC-5), the official Genshin Impact Twitch channel will do a Livestream for the latest version of the game called Genshin Impact 3.4. You can also watch the stream by visiting HoYoverse's YouTube channel.
HoYoverse has reverted to its previous update schedule of each six weeks after a short window in which new content was released every five weeks. With a release date of January 18, 2023, Genshin Impact 3.4 will run until March 1, 2023, and It's called "The Exquisite Night Chimes".
Genshin Impact 3.4 Outfit Skins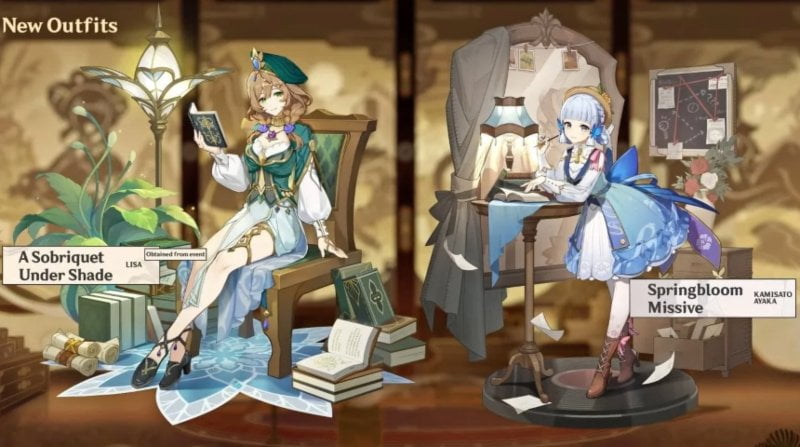 In patch 3.4, Kamisato Ayaka and Lisa will both receive a new skin: Ayaka will get Springbloom Missive, while Lisa will don A Sobriquet Under Shade. The former can be seen at the Warrior's Spirit event, although it is unfortunately not a freebie.
As part of the Second Blooming event, players can earn a free outfit for Lisa. Her outfit will be based on her time as a student at the Sumeru Akademiya. Compared to her original outfit, Lisa's new one has more lace and sweet colors.
New Area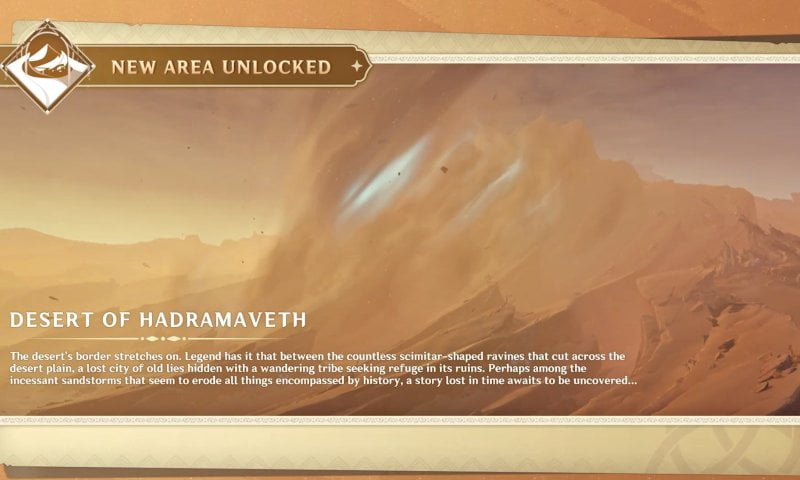 Genshin Impact version 3.4 will introduce a new area in the Sumeru Desert known as the Desert of Hadramaveth. This area is rumored to be a powerful and explorable area. It is probably connected with the Sandworm World Boss. The new area will feature new World Quests, a music festival, and a variety of events. Players can expect to receive new Primogems for their efforts. Additionally, a new boss named Setekh Wenut will be introduced in this terrain. This formidable boss makes use of Anemo's sonic abilities to track down and defeat its target.
Genshin Impact 3.4 Events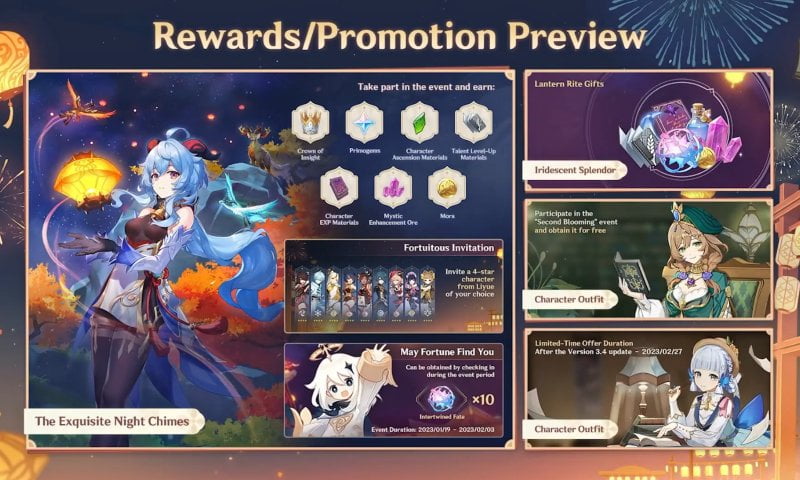 There are several new events in Genshin Impact version 3.4. One of the biggest is the Lantern Rite festival. The festival will include mini-games and a story quest. Several rewards will be given alongside a limited-time card game mode. During the Festival, players will be able to earn festive Fever that can be used to unlock free 4-star Liyue characters. Activities central to the Lantern Rite include:
In Liyue art: Paper Theater, the player must assemble a paper play by exchanging various parts.
In Radiant Sparks, you run a time trial against the clock, but with a swirl: you can turn into a fireworks boom and break through any obstacles in your way.
In Floating Lanterns Mystique, you'll be tasked with navigating a boat in order to retrieve a series of floating lanterns.
You'll also need to go through several tests of battle ability. If you acquire ample Festive Fever event currency, you can summon a four-star Liyue character to your party, such as Yaoyao. There will be a periodic login event called May Fortune Find You that will begin during the Lantern Ritual. Logging in during this special event will reward you with 10 Intertwined Fates. Additionally, the Genshin Impact staff will use the in-game mail system to provide an additional three Intertwined Fates, bringing the grand total to thirteen.
In Almighty Arataki Extraordinary and Exhilarating Extreme Beetle Brawl event, we will engage in a simulated battle amongst bugs. Warrior's Spirit brings back the combat tournament mode, where abilities are disabled and parrying is the only way to avoid damage.
Second Bloom is a three-round combat challenge where linked characters can earn benefits. During this promotion, you can acquire Lisa's brand new Sumeru-themed outfit at no cost. Finally, eight Omni Element Dice will be provided to you at the outset of every game in the Genius Invokation card game's new Heated Battle Mode. This mode will introduce a new special rule with each new release.
Genshin Impact 3.4 Characters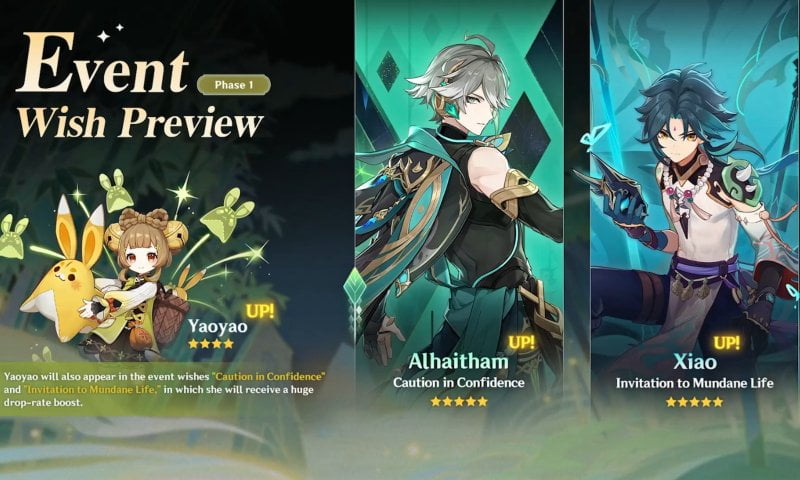 During the Special Program for Genshin Impact 3.4, new banners and weapon banners were revealed. These will be added to the update when it's released. Among the reruns will be Xiao, Hu Tao, and Yelan characters. They're expected to be released in Phase 1 and Phase 2 of the 3.4 update. Xiao made his debut in Version 1.3 and was rerun in June 2022. He's associated with the Lantern Rite, a type of event. The second half of the 3.4 update will be dedicated to Yelan and Hu Tao.
The upcoming Yaoyao is a four-star Dendro character who looks like she's a polearm wielder. She's a healer and Dendro unit, and she'll be a playable character. She will be a Dendro Sword user and will use Light Mirrors to deal more output damage.
Alhaitham, a 5-star character, will be available as a playable character in the first phase of the 3.4 update. She's a Sumeru character who has Dendro powers, and she's associated with the Archons. Her story Quest will be released, along with the introduction of Alhaitham herself.
Hu Tao, a veteran Pyro DPS, will also be featured in the update. He's one of the best five-star in the game, and he was last available in the third phase of Version 1.3. Now, he's coming back in the upcoming Genshin Impact version.
Redeem Codes
If you are looking for a way to get some free rewards in Genshin Impact, then redeem codes are the way to go. Using these codes, you can obtain items such as Primogems and Enhancement Ores. These items are essential for leveling up your characters and unlocking more playable characters.
You can redeem Genshin Impact 3.4 redeem codes in-game, or online. To redeem them, you must have an Adventure rank of at least 10. The codes are available on the official Genshin Impact website and in Discord. To access the 3.4 live stream, you must log in to your account. Once logged in, open the account menu. Go to the Settings section and select the Redeem Codes option. Enter the code into the text field.
In addition to the 3.4 Livestream, HoYoverse has released a few Genshin Impact 3.4 redemption codes. These codes will allow you to redeem 300 Primogems. These Genshin Impact 3.4 redeem codes are valid until January 6, 11 PM (UTC-5). However, they will expire soon. That means you need to use these codes fast or they may end up being useless.