Diablo 4 Unyielding Flesh quest is an early part of the game that you'll stumble upon. It's a bit graphic, but that's what makes it so intriguing. The quest revolves around a rather macabre theme, reminiscent of something Ramsay Bolton from Game of Thrones might enjoy – a flayed man.
But don't worry, it's not all doom and gloom. Completing this quest comes with its perks. You'll get a unique weapon to add to your arsenal, a bunch of gold to fill your pockets, and renown to boost your reputation. D4 Unyielding Flesh is a side quest waiting for you in the Fractured Peaks region. This guide will show you how to pick up the quest, walk you through it step by step, and even give you a sneak peek at the cool rewards you'll bag once you complete it.
How to Complete Diablo 4 Unyielding Flesh Quest
You gotta be at least level 7 and have made it to Kyovashad. That's your ticket to unlocking the path to Yelesna in the southeast. She's in a bit of a predicament – her husband, Feodor, has gone missing. And if that wasn't worrying enough, she caught him chatting it up with another lady. She'll join you on this wild ride. So, gear up and follow the waypoint to the blue highlighted oval further southeast from Yelesna in the Gnarled Timbers.
Finding the Flayed Man: A Gruesome Encounter
Now that you're on the quest, it's time to find the flayed man. This part of the journey takes you to a specific location on your map. Feodor is shackled and flayed in the blue oval's upper left corner. But here's the twist, he seems oddly content with his situation.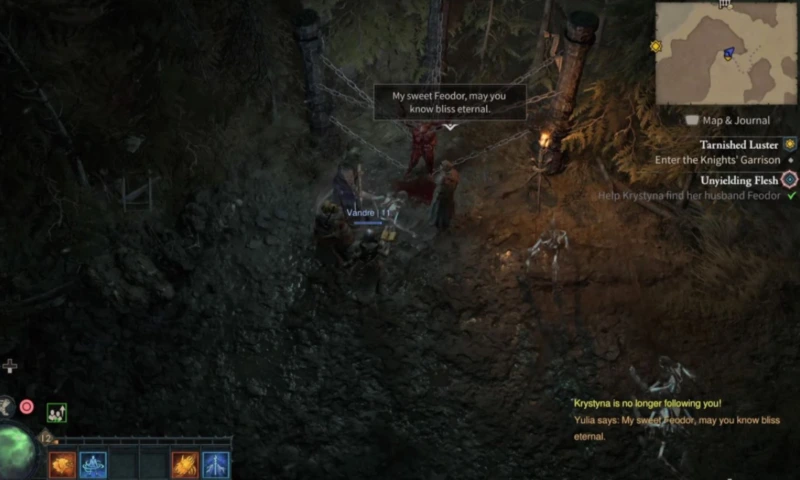 And remember the mysterious woman mentioned? Well, she's here too, uttering some strange words about the whole skinless situation. You're absolutely correct if you suspect she's a demon posing as a human.
Defeating the Yulia Demon
Being a demon in reality, she's not going to go down without a fight. A blue marker will appear on your minimap, guiding you to her location. It's time to face her and stand your ground. But don't worry, she's not as tough as she seems. Her name is Yulia the Hellbound, and while she might sound tough enemy, with the right strategy, she's very easy to take down without giving your much hard time.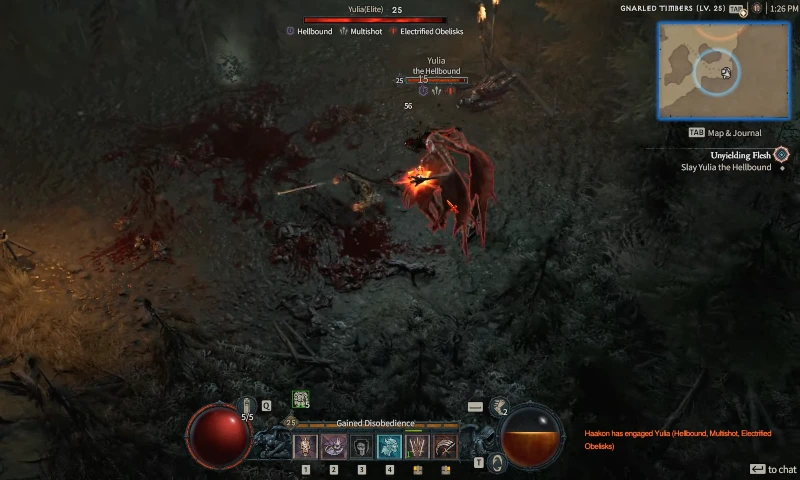 With the attachments Hellbound and Multishot, Yulia could come across as menacing but don't let that scare you. She doesn't have a ton of life, and there's nothing extraordinary about her to fear. However, a word of caution – make sure you're all healed up before you dive into the battle. Ideally, you'll want to be at least level 8 or 9 before you take her on for the first time. But don't worry, this isn't as daunting as it sounds. Chances are, you'll likely reach that level just by making your way to Yelesna.
Quest Completion: Claiming Your Rewards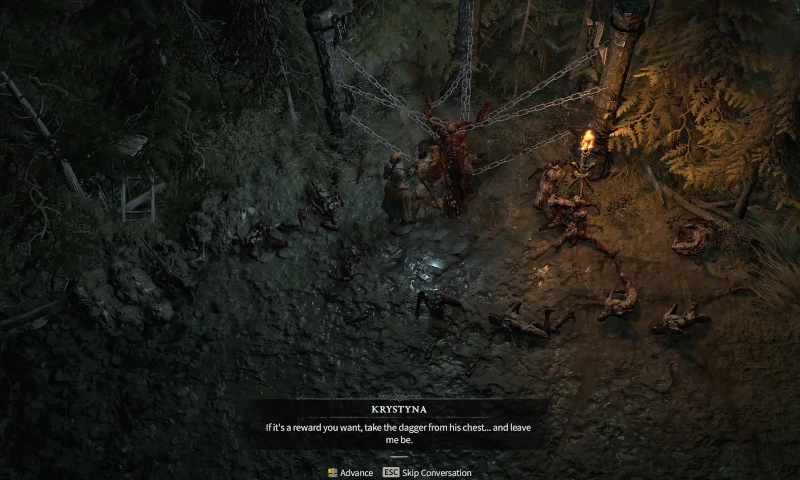 You've faced the demon and emerged victorious. Now, it's time to reap the rewards of your bravery. After defeating Yulia, you need to return to Krystyna and Feodor. You see, there's a dagger impaled into Feodor's chest. Krystyna will tell you to take it – it's part of your reward.
Pulling out the dagger might be a bit messy, but it's worth it. Not only will you get the Blood-barbed Blade dagger, but you'll also receive at least +20 renown, 1000 XP, and a bunch of gold. So, despite the gruesome nature of the Unyielding Flesh in Diablo 4, it's a rewarding journey.
More Diablo 4 Guides