Diablo 4 from Blizzard has its fair share of problems. The Diablo 4 open beta is currently in progress, but some users have been experiencing various issues such as connection errors or full servers. Out of these, one is Error Code 395002 which has been especially problematic for many players, and the reason can be the overload of game servers. so if you've experienced it, here's how to fix it. If you have also faced this common issue, learn here how to fix Error Code 395002 in Diablo 4.
While getting an error code when trying to play Diablo 4 can be frustrating, the good news is that this problem is not a big deal to resolve. We understand the frustration that comes with encountering error codes, and we are committed to ensuring that you can get back to enjoying your gaming experience as soon as possible. Ensure that this troublesome error code does not impede your ability to fully immerse yourself in the game. This guide will provide detailed instructions for unlocking your account and getting back into action in no time at all! So don't worry—you won't have to put your adventure on pause for very long!
Why Does Diablo 4 Error 395002 Occur?
For now, there is no confirmed details regarding the occurrence of Error Code 395002 and we don't actually know its real cause. Even this issue is not mentioned in the list of possible Diablo 4 Beta errors. The error takes place with the message "Your Account is Currently Locked". It seems that this error is more likely caused by the overload of servers due to too many players hitting the resources at once. Players on social platforms reported this error after the game was released into beta and had an influx of players.
The widespread acclaim and appeal of the Diablo franchise are indisputable, thus it comes as no shock that a large number of gamers are eagerly counting down the days until the forthcoming action-packed RPG is released. Given the surging levels of interest in the game, it's common that a lot of players to want to play the game and come online at the same time. In this way, the servers come down under a huge load and even bearing it becomes difficult for them.
Remember, this is the beta version of the game for testing – during which Blizzard is evaluating every aspect of the game, from the user interface to the performance of the servers. With years having passed since Diablo 3 launched with the server problems, the company has likely taken a good lesson from it and the team is likely doing its best to mitigate server issues before its official release. As a professional gamer, it's important to recognize the challenges and opportunities that come with the beta testing phase of game development.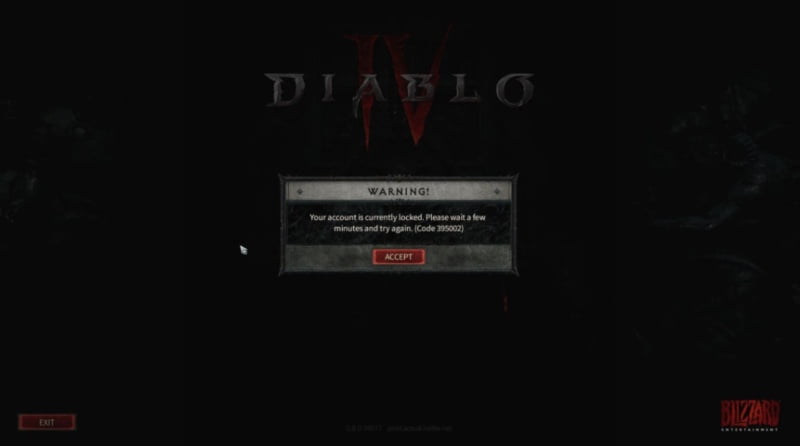 How to Fix Error Code 395002 in Diablo 4?
Unfortunately, the only way to fix the Diablo 4 Error 395002 is to have patience – as the error message suggests, you just need to wait a few minutes and try again. This is due to a high influx of concurrent players, which exceed the server's abilities, leading to an account lock. Ultimately, no matter how much you try—you cannot instantly fix this error as it heavily relies on Blizzard's server capacity. However, if you wait it out a little (and go to drink coffee or for a walk) and don't give up hope, you can take down the problem and be able to enter the game to have some fun. Many players have claimed that restarting their Battle.net client or the game itself has resolved the issue. In any case, if the error persists then waiting it out is your best option.
As was previously noted, there are now too many people trying to log into the game at the same time, causing the game's servers to crash. As a result of the sudden surge in user activity, there are different types of errors players are facing during the beta phase. The Diablo 4 development crew is hard at work finding and fixing these problems, so players shouldn't worry too much until the game's final launch.
After all, if you are still facing the same issue, then there are some other fixes that you can try but these may not be the actual solutions. Resetting the network connection is a good thing to try, particularly if other error fixes aren't successful. Restarting your router ensures that the connection is running properly and that it's not being blocked by a firewall. Additionally, verifying your internet signal strength can also help determine if anything is hindering your gaming experience. While this likely won't resolve the error code itself, ensuring a strong connection will reduce the risk of additional errors from appearing.
Moreover, you need not fret over anything unpleasant happening to your Diablo 4 account, such as its being permanently disabled or terminated. It's just a temporary issue causing your account to get the lock. While it may be aggravating to wait for a solution, any problems that occur during the restricted beta phase will eventually be resolved with time when we get the official release of Diablo 4 on June 6, 2023.
In the end, we can only say that the possible way to resolve Error Code 395002 in Diablo 4 is to wait for a few minutes and then try again. Furthermore, if you want to take full advantage of the beta version by trying and exploring different skills and ranks while fully customizing your character, you can read how to respec in Diablo 4.