God of War Ragnarok will be available for PS4 and PS5 on 9 Nov 2022. We will get the 4 different editions of the game on its launch and God of War Ragnarok preorders for these versions will now be available from July 15. You may not want to miss this amazing opportunity to get early access to the game by preordering it straight after the editions will be able to grab. Importantly, your main focus may be to grab the fantastic Collector or Jotnar editions of the game. Those God of War Ragnarok special editions have a lot of valuables and according to our expectations, their copies will sell out very quickly.
Those who preorder the God of War Ragnarok edition will receive Kratos's Risen Snow Armor and Atreus's Risen Snow Tunic bonus items. These are "Launch Edition" extras, therefore the code will be included in the package or you will get it in your PlayStation account if you purchase the digital copy. Preordering the Launch Edition on November 9 is the best way to ensure that you get your hands on it. It is safe to say that God of War Ragnarok will be a hot seller this festive period.
God of War Ragnarok Preorder Standard Edition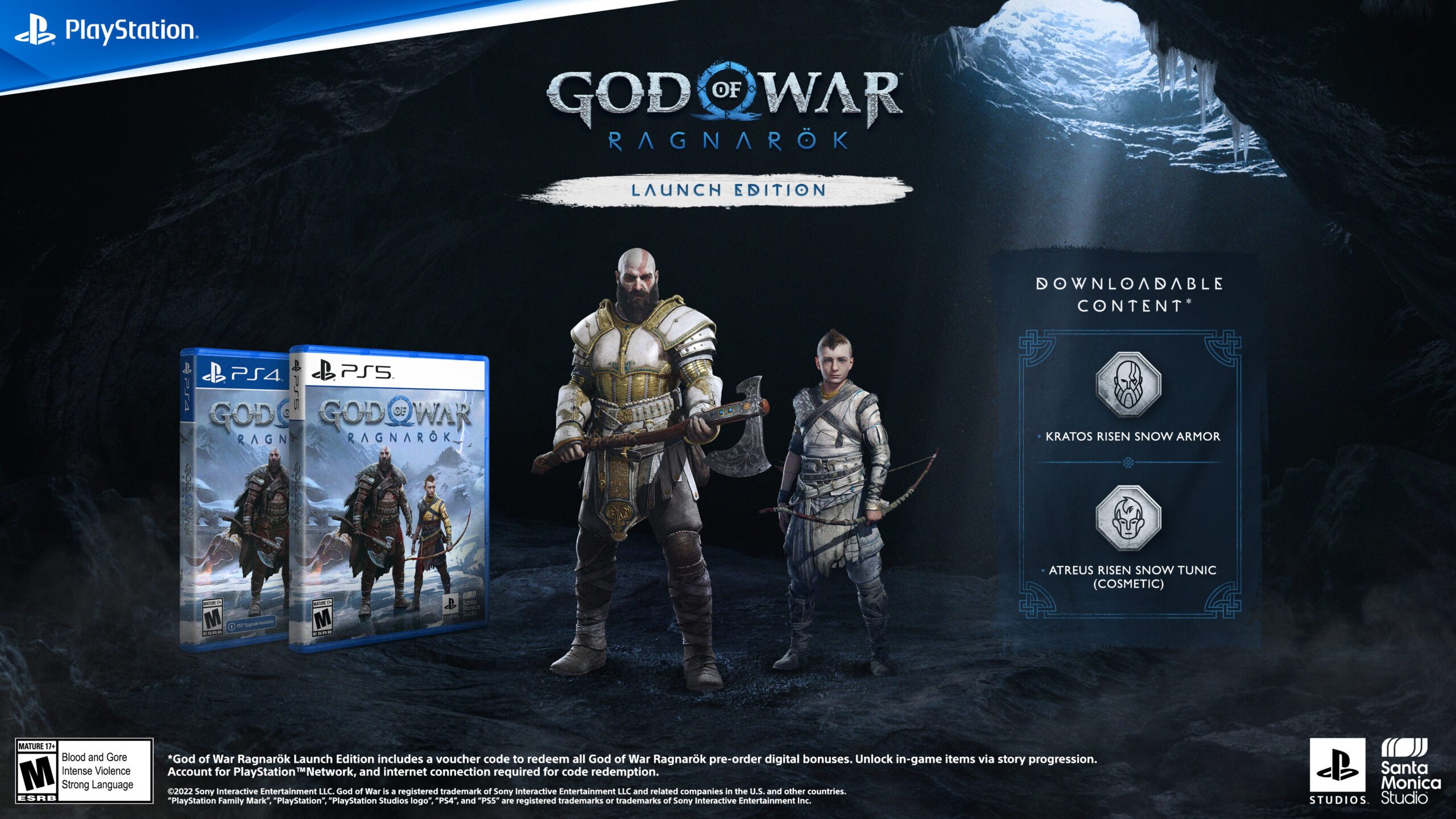 Ragnarok's ordinary edition includes the main game as well as the two additional cosmetics. It does not matter if you buy a digital or physical version of the PS4, you will be able to upgrade to the Playstation 5 edition for an extra $10.
Preorder God of War Ragnarok Digital Deluxe Edition
If you will get the Digital Deluxe Edition of God of War Ragnarok, you will be offered a lot of in-game content and many other appealing extra perks as a bonus. The in-game content will unlock on various occasions as you progress through the game's journey. We have not received any official cost statement for this edition yet, but the expected price is somewhere around $80. The title will launch on both PS4 and PS5 consoles. The Digital Deluxe Edition includes the following:
Kratos Darkdale Armor
Atreus Darkdale Attire
Darkdale Blades Handles for the Blades of Chaos
Darkdale Axe Grip for the Leviathan Axe
God of War Ragnarok Digital Soundtrack
Dark Horse Digital Mini Artbook
Avatar Set
PS4 Theme
God of War Ragnarok Preorder Collector's Edition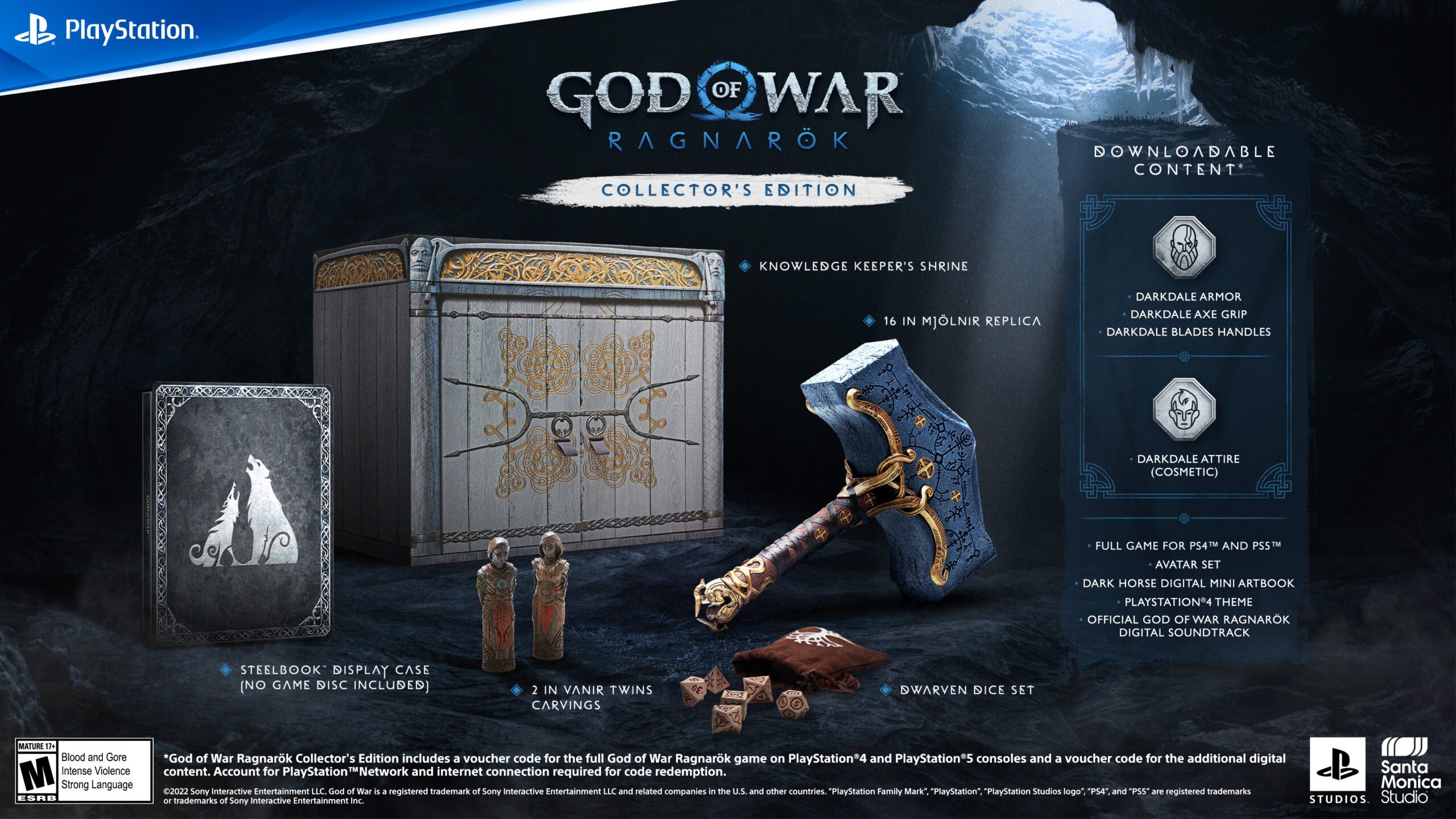 At this time, there is no word on how much the Collector's Edition will cost. Starting with the box, the Collector's Edition has a lot more to offer than the standard version.
The Collector's Edition's digital copy will come for both PS4 and PS5. A disappointment is that it does not come with a physical disc, particularly because the edition comes in an attractive steelbook cover that features the bear and the wolf. Those who purchase the Collector's Edition of God of War Ragnarok will receive the following:
16″ Mjolnir Hammer Replica
2″ Vanir Twins Carvings
Dwarven Dice Set
Steelbook case
Additionally, it also includes all Digital Deluxe Edition bonuses which are mentioned above.
Preorder God of War Ragnarok Jotnar Edition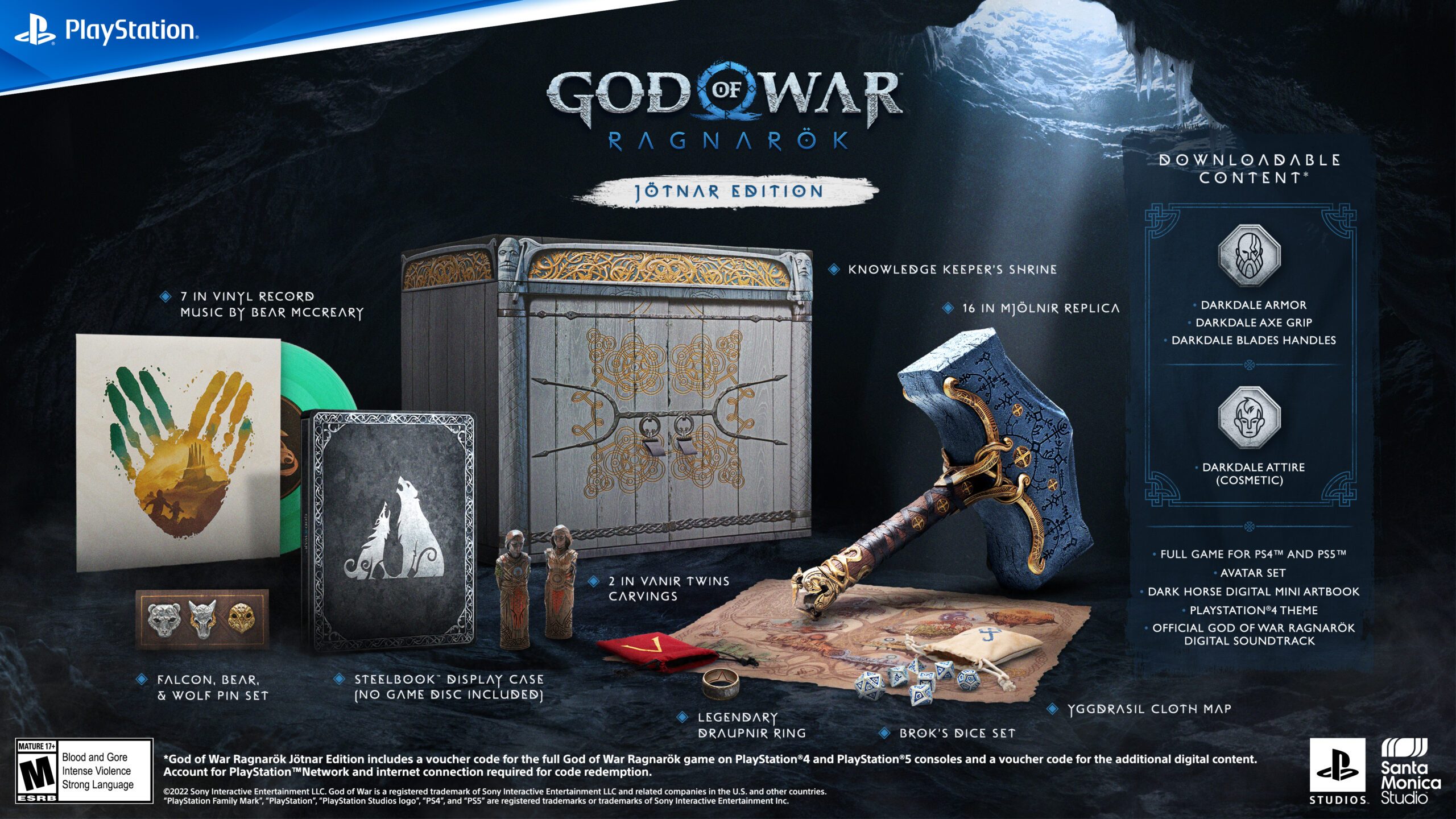 The Jotnar Edition has here for the most die-hard God of War players. Everything from the Collector's Edition is included, plus a few extras. The pricing hasn't been announced officially, however we can expect it to be far more expensive than the Collector's Edition. So, to summarize, expect to pay a lot of money. The following things are only available in the Jotnar Edition:
7-inch vinyl with two tracks by Bear McCreary
The Falcon, Bear, and Wolf Pin Set
The Legendary Draupnir Ring in a red cloth bag
Brok's Dice Set (rather than Dwarven Dice Set as in Collector's Edition)
Yggdrasil Cloth Map
More, you will receive a 16-inch Mjolnir Replica, 2-inch Vanir Twins Carvings, a digital code of the game for PS5 and PS4, steelbook case, and all perks of Digital Deluxe Edition.